New 'The Jungle Book' Images Offer An Astonishing Before-And-After Look At Two Scenes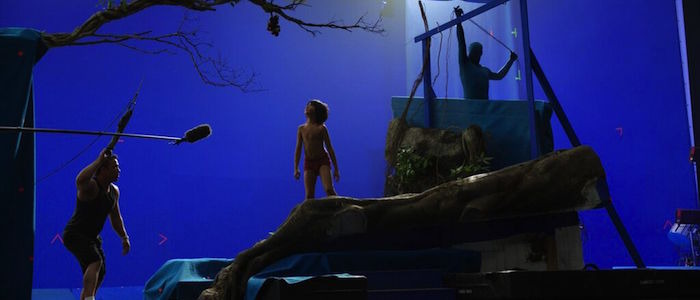 Yesterday, I wrote about a behind-the-scenes video that showcased just how much of Jon Favreau's The Jungle Book was created in post-production and I was just bowled over by it. It's one thing to hear that a movie is set entirely in digital environments (because computers can do anything and so on), but it's another thing to actually see the before and after (because computers can do anything and holy cow).
Disney has released a new series of stills showing the transformation of a few shots in the film, revealing how a lone kid standing in front of blue screens was transformed into a lone kid standing in a lush and photo-realistic Indian jungle by the visual effects geniuses at MPC.
There isn't a proper exterior shot in the entirety of The Jungle Book, so production VFX supervisor Rob Legato and a team of 800 computer graphics artists had to build every single location from scratch. Take this first batch of photos, which shows how every vine, leaf, and twig had to be carefully rendered. Naturally, this process required a great deal of real-world assistance:
MPC's artists took more than 100,000 photographs of real locations in the Indian jungle, and built a massive library of reference material that was then used to build all the storied locations to the finest of real-world detail. The results are trees, plants, moss, bark, rock and water that the audience feels they can reach out and touch.  Each scene is handcrafted plant by plant, detailed down to thousands of scattered broken leaves, and vines that grow across the landscape.
And here's how this shot was transformed:
Equally mind-blowing is the creation of the scene where Neel Sethi's Mowgli floats down the river with Baloo the bear, mainly because Baloo and the river didn't exist. This is why Favreau is making gigantic box office hits and most people aren't – imagine looking at a pool in the middle of Los Angeles and having the nerve to know you can transform it into a river running through the jungle. This was apparently one of the toughest scenes to create:
The lazy river sequence was one of the most complicated in the movie, with CG environments, water FX, fur, character animation and the live action Mowgli all needing to blend together with complex interaction between CG and live action elements.
Neel's performance was shot in an outdoor pool, MPC's artists then painstakingly replaced the entire environment to sit him into the lazy river scene atop the hand-animated Baloo. Contributing to 80% of the frame 100% of the time, the jungle itself is the single biggest creation in the movie.
And here's the before and after:
Disney also supplied the following statistics, which should put the sheer amount of effort that goes into making a movie like this into perspective:
Total unique species of animal created: 54
Total number of unique animals created: 224
Total render hours accrued: ~30million, roughly 3,400 years through a single machine.
Average render hours per frame: 19 hours
Total runtime of MPC finals: 106 minutes
The Jungle Book is in theaters now, where it's making all of the money in the world. Please enjoy this picture of Favreau directing Sethi to sing and splash with a giant bear while standing in a pool that looks like it was built in a parking lot.