'Approaching The Unknown' Trailer: Mark Strong Heads To Mars All By Himself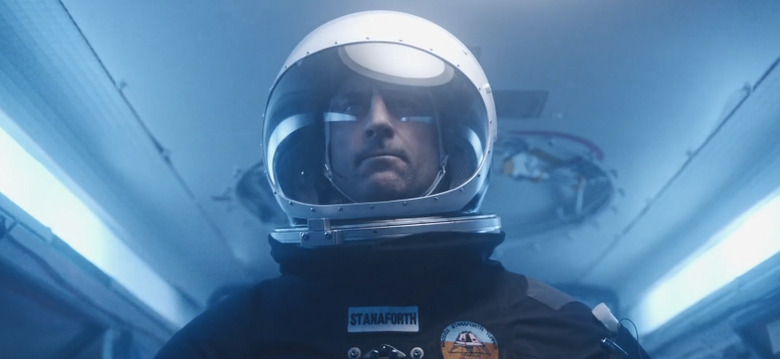 Last year, director 20th Century Fox and Ridley Scott found plenty of success and critical acclaim with their sci-fi survival drama The Martian. The film ended up landing a Best Picture nomination as well as a Best Actor nod for Matt Damon. Now a little more drama is coming to the red planet with Approaching the Unknown, a new sci-fi thriller that sends Mark Strong (Sherlock Holmes, Kick-Ass) on a one-man, one-way mission to Mars. In the trailer, he says he's going to Mars to live, but he might also be going there to chill until the bad taste from The Brothers Grimsby has washed away.
Watch the Approaching the Unknown trailer after the jump.
Here's the Approaching the Unknown trailer originally from Apple:
While The Martian was a pretty broad sci-fi flick, thoroughly entertaining and easily accessible to general audiences, this one looks to be a little more low key, opting for a tone and style more along the lines of Duncan Jones' stellar Moon. Plus, unlike The Martian, this film primarily takes place on the ship that's taking Strong to Mars. The journey is supposed to last 270 days, but it appears something may go wrong, taking Strong off course and potentially leaving him stranded in deep space.
This looks like it could be a solid sci-fi thriller, but at the same time, Luke Wilson isn't doing the movie any favors. He sounds like he's completely phoning in his performance, especially that last line he has in the trailer, and not just because his role is mission control on Earth. The rest of the cast includes Sanaa Lathan, Charles Baker and Anders Danielson Lie.
Approaching the Unknown comes from first time writer and director Mark Elijah Rosenberg, the winner of 2014's Sundance Institute-NHK award. The honor is intended to help and support international talents in filmmaking, previously going to the likes of Beasts of the Southern Wild director Benh Zeitlin and Nine Lives helmer Rodrigo Garcia, so hopefully this turns out to be the start of a promising career behind the camera for Rosenberg. We'll find out this summer.
Captain William D. Stanaforth (Mark Strong) is on a one-way solo mission, taking humanity's first steps toward colonizing Mars. Although the entire world is watching him, he is completely alone in a dark and distant sea of stars. Stanaforth rockets bravely through space facing insurmountable odds, but as the journey takes a toll on his life-sustaining systems, he is forced to make impossible choices that threaten his sanity, mission and very existence.
Approaching the Unknown arrives on June 3.