Cool Stuff: Mondo Unveils Texas Frightmare Prints For 'Scream', 'Jaws' & More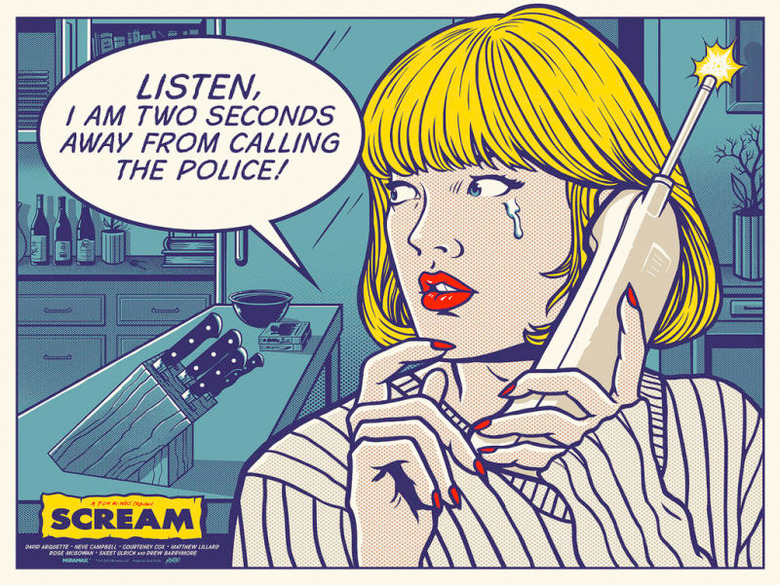 Today begins another round of Texas Frightmare Weekend, the annual horror convention that has been going for 11 years now. This year is a special one for horror fans, because it marks the 20th anniversary of Wes Craven's genre redefining Scream, which will be getting a special screening at the event. And with it comes a special new Mondo print paying tribute to the slasher.
But those aren't the only Mondo goodies that Texas Frightmare attendees will be able to get their hands on. There will also be new prints for A Nightmare on Elm Street, Jaws, The Conjuring and White Zombie. Check out all of the Mondo Texas Frightmare prints below.
The Scream print above by Gary Pullin was sold at the 20th anniversary screening of the movie last night, which had special guests Matthew Lillard and Skeet Ulrich in attendance (they'll be appearing at Texas Frightmare all weekend t00). The good news is that all the remaining prints not sold at the screening will be on sale at Mondo's booth starting today.
This year you can catch Mondo at Tables 171 – 173 where they will be selling all these prints as well:
If you want more details on the edition size of the above prints, how much they'll cost you, and who designed them, check out Mondo's official announcement about their Texas Frightmare releases right here. There you'll also see a couple vinyls they'll have on hand as well as some cool enamel pins. But of course, you'll have to be at the convention to get them. Online ticket sales are unavailable, but you can buy tickets at the door if you're in the area.
Get more information on Texas Frightmare right here.