'The Omen' Prequel Is In The Works For Some Reason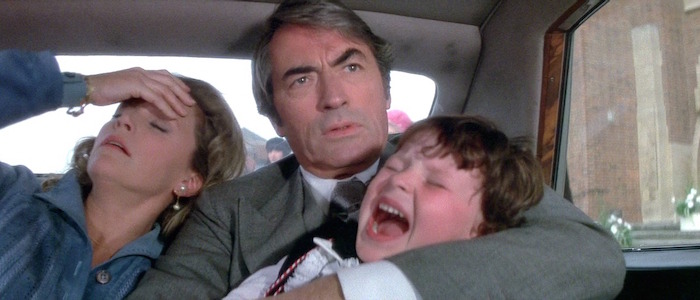 The news that 20th Century Fox is developing a prequel to the 1976 horror classic The Omen shouldn't come as much of a surprise – everything gets a prequel these days, whether the original material calls for it or not. It's just the current state of the system. It's also not too surprising that David Goyer is on board as a producer, since he has a habit of popping up anywhere and everywhere, especially when someone is trying to reinvent something with a familiar name. What is pleasantly surprising is the involvement of director Antonio Campos, who is the kind of fresh voice that should be making genre movies at major studios.
The Hollywood Reporter has the details, even though there aren't that many quite yet. Ben Jacoby wrote the screenplay, Goyer will producer through is Phantom Four banner, and Campos will follow up a string of well-regarded indies by exploring...well, whatever a prequel to The Omen needs to explore.
That's where we can all start collectively scratching our heads. What actually happens in the time before the events of The Omen and why are they interesting? After all, the original film is already very much an origin story, exploring how an American diplomat adopts an orphaned baby after his own child dies, only to learn too late his new son is literally the antichrist. The plot of The Omen is so cut and dried, so free of unanswered questions, that I can't even begin to speculate about what the plot of a prequel would be. However, the screenplay did grab the attention of the filmmaker behind films like Christine, Afterschool, and Simon Killer, so there has to be something worthy going on here.
The original Omen was followed up by a decent sequel (Damien: Omen II), a terrible second sequel (the inappropriately named Omen III: The Final Conflict), and a made-for-television conclusion (The Omen IV: The Awakening). An uninspired remake of the first film arrived a decade ago, but the only inspired thing about it was the June 6, 2006 release date. A sequel TV series called Damien, which ignores all of the sequels and only uses the original film as part of its canon, is currently airing its first season on A&E. With all potential post-Omen space presently occupied, going back in time feels like the only possible option if Fox wants to keep this series alive.
So while I remain skeptical about this film on a purely conceptual level, I'm also intrigued by what Campos can do with a mainstream horror movie and the backing of a studio. Let's wait and see what happens here.