'Danger Mouse' Trailer: He's The Ace, He's Amazing, He's The Strongest, He's The...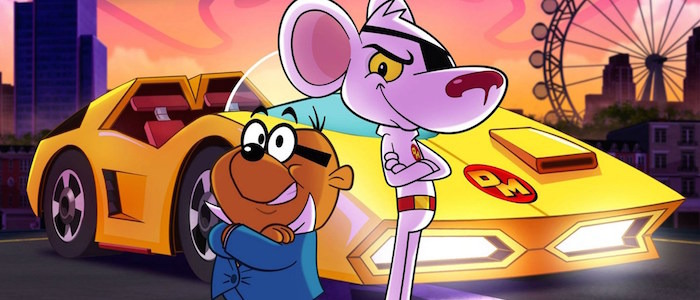 Eventually, everything you enjoyed as a child will be revived in some capacity on Netflix. They've got a new Voltron series on the way, a show based on the work of Dr. Seuss, and a new adaptation of A Series of Unfortunate Events. Liked Stretch Armstrong as a young person? Netflix has got you covered. Pee-Wee Herman? Inspector Gadget? Yep and yep. And this is before we even touch their shows set in the Marvel Cinematic Universe.
So Netflix acquiring the new Danger Mouse show can't help but feel inevitable and they have unveiled a trailer for the revival of the beloved '80s cartoon series.
This new iteration of Danger Mouse originally premiered on the CBBC last September, but Netflix will debut the series for American audiences, dropping all 26 episodes of the first season tomorrow. The trailer doesn't offer much for the uninitiated – if you don't know anything about Danger Mouse, the video below won't help much. Then again, people who know nothing about Danger Mouse aren't the target audience here. The people who already know the character (and the children they've spawned in the years since they watched it) are the real targets.
Like the original series (which ran from 1981 through 1992), this new incarnation follows a mouse secret agent who routinely saves the world using his wits, cunning, and arsenal of vehicles and gadgets. These new episodes feature Alexander Armstrong as Danger Mouse, Kevin Eldon as Penfold, Stephen Fry as Colonel K, Dave Lamb as the narrator, Lena Headey as Jeopardy Mouse, and John Oliver as Dr. Augustus P Crumhorn III. When she was cast in the series last year, Headey stated:
I wanted to do [Danger Mouse] because it was pure nostalgia for me I have children now and it's just a treat to be involved in something that you loved as a kid and be able to share it. Those moments as an actor that come a long once in while are not to be missed.
Oliver also shares his enthusiasm for the original character:
I've loved Danger Mouse my whole life. Danger Mouse was a significant part of my childhood. So to get a chance to do it is like getting a chance to step into your childhood, which is both a magical and a potentially hazardous thing! It will be awesome, I can't wait to see it, let alone hear myself in it!
The entire first season of Danger Mouse will arrive on Netflix tomorrow, April 29, so you will soon have the opportunity to see how the new episodes measure up against the hazy nostalgia you've been clinging to for all these years.