'Vikings' Star Katheryn Winnick To 'The Dark Tower' Came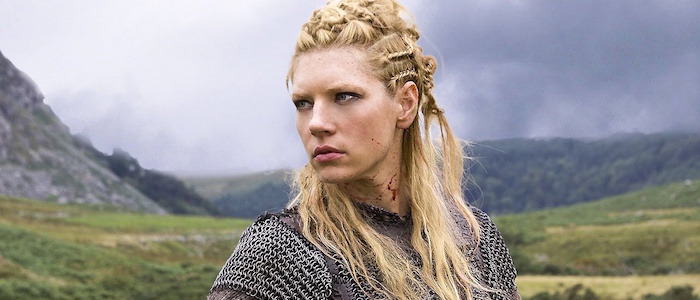 UPDATE: Deadline reports that Michael Barbieri, the star of Little Men, has joined the cast as Timmy, a friend to Jake Chambers. The original story follows below.
That headline may be a bit of a deep cut for the uninitiated, but you hopefully got the gist of it: Katheryn Winnick, who is best known for playing Lagertha on the History Channel's Vikings series, has joined the rapidly expanding cast of the upcoming film adaptation of Stephen King's The Dark Tower. Whom she'll play in Nikolaj Arcel's film remains unknown, but one report suggests that fans of the book series should stop scouring the text to find a connection – it looks like she could be playing a newly invented character.
The initial news of Winnick's casting was revealed over at Variety and their story contains the usual elements you expect to see in a story like this: the studio declining to comment, the specifics of the role remaining unknown, and so on and so forth. In fact, The Dark Tower has been a fairly secretive production so far, steadily adding new cast members to ensemble without much information about their role in the film. Heck, cameras have been rolling for a few weeks now and no one has managed to snag a photograph of Idris Elba as Roland the Gunslinger or Matthew McConaughey as the Man in Black.
However, Dark Tower super-fan and AICN writer Eric Vespe thinks he knows who Winnick is playing. Since many of the series' more iconic characters (like Eddie and Susannah) are being saved for a potential sequel, the first film is creating a whole bunch of new characters and Winnick is one of them:
If I were a betting man, I'd guess she'll be playing a new character my sources say is named Jill. I haven't been able to get a clear bead on who this character is, but I know she is non-human and is someone who tries to abduct Jake in New York. She's one of The Man In Black's henchpeople and plays a significant role in the story, but beyond that I don't know too much.
Even though Stephen King has given this project his blessing, this starting to sound less and less like The Dark Tower with every new piece of news we receive. That's not necessarily bad news (yet), but fans of King's magnum opus series should probably ready themselves for a movie that strays significantly from the books.
Winnick's casting comes hot on the heels of The Cabin in the Woods star Fran Kranz joining the cast. Jackie Earle Haley was also recently cast in the film, as was newcomer Tom Taylor, who signed on to play Jake, Roland's young sidekick. The Dark Tower is set to hit theaters on February 17, 2017.