'X-Men: Apocalypse' Clip: Moira MacTaggert Is Back And She's Got Some Exposition To Drop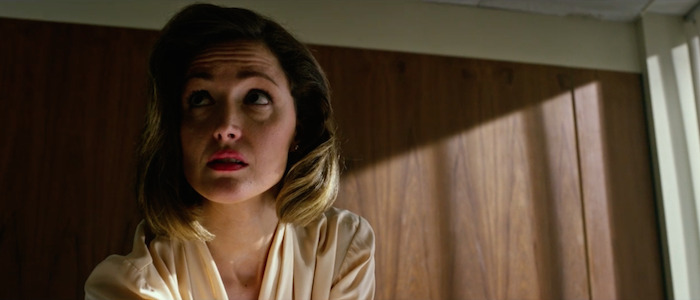 X-Men: Apocalypse opens in theaters in one month, so the first official clip from the film has arrived right on schedule. If you're looking for some footage showcasing superpowered beings exchanging blows or glimpses of the villainous Apocalypse (Oscar Isaac) leveling entire cities, you're probably going to feel a little let down. However, this clip does feature Rose Bryne's Moira MacTaggert – returning to the X-Men series after sitting out X-Men: Days of Future Past – giving James McAvoy's Professor X and Lucas Till's Havok a briefing on the subject of just how screwed they really are, and that's nifty enough.
If X-Men: Apocalypse is really going to cap off the trilogy that began with X-Men: First Class, bringing Byrne back is a good way to tie the whole thing together. MacTaggert was introduced in that film as a CIA agent who joins forces with Charles Xavier and his merry band of mutants, only for her mind-controlling ally to erase her memory at the end of their adventure. It's also nice to see Havok hanging around the main characters again, as Alex Summers was relegated to the fringes of the action in Days of Future Past.
And while this clip is perfectly fine and everyone in it is fine and I can't argue with the decision to give all of the Apocalypse-related exposition to someone as inherently likable as Byrne, it does expose an issue that annoyed me in Days of Future Past and will probably drive me up a wall here. If First Class took place in 1963, Days of Future Past in 1973, and Apocalypse in 1983, why hasn't anyone aged? It's been twenty years and there doesn't appear to be a single new wrinkle or grey hair. You could cook up an explanation for the mutant characters (they age more slowly because of their unique genes, etc.), but it doesn't explain why MacTaggert still looks pretty much the same. This is a choice that baffles me.
Anyway, here's the official synopsis:
Following the critically acclaimed global smash hit X-Men: Days of Future Past, director Bryan Singer returns with X-MEN: APOCALYPSE. Since the dawn of civilization, he was worshipped as a god. Apocalypse, the first and most powerful mutant from Marvel's X-Men universe, amassed the powers of many other mutants, becoming immortal and invincible. Upon awakening after thousands of years, he is disillusioned with the world as he finds it and recruits a team of powerful mutants, including a disheartened Magneto (Michael Fassbender), to cleanse mankind and create a new world order, over which he will reign. As the fate of the Earth hangs in the balance, Raven (Jennifer Lawrence) with the help of Professor X (James McAvoy) must lead a team of young X-Men to stop their greatest nemesis and save mankind from complete destruction.
X-Men: Apocalypse is directed by franchise veteran Bryan Singer and is set to open on May 27, 2016. You can watch the latest trailer right over here, just in case you missed it.