Yes, Keanu Reeves Voices Keanu The Cat In 'Keanu'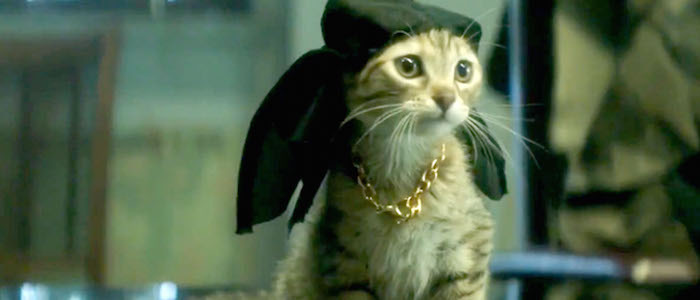 The kidnapped kitten at the center of the new comedy Keanu is obviously named after Keanu Reeves, the seemingly immortal star of Speed, Point Break, The Matrix, and John Wick, but we now know that the actor himself has a tiny cameo in the film. Keanu Reeves plays Keanu the cat. Well, technically he voices Keanu the cat in a scene where a character hallucinates during a crazy drug trip. However, this cameo almost didn't happen and we have Mr. Reeves' sister to thank for its existence.
Keanu, which is the big screen debut of beloved comedy duo Keegan-Michael Key and Jordan Peele, follows two best friends, one a lazy stoner and the other a boring suburbanite, who infiltrate the local criminal underworld when a beloved kitten is abducted by a dangerous gangster. Naturally, all kinds of mayhem ensues. The work-in-progress cut that screened at SXSW earlier this year was inconsistent, but funny enough to warrant a second round with the finished version. And yes, that cut did feature a scene where Keanu the kitten speaks with the voice of Keanu Reeves, but at the time, it wasn't clear if it was the man himself or a skilled imitator.Speaking with the LA Times, director Peter Atencio explained that he initially reached out to Reeves' representatives, but he didn't get very far. However, the arrival of the film's trailer changed everything:
Yeah, they politely declined. Who knows if he ever even heard about the offer. But then we got a call after the trailer came out — apparently, his sister showed him the trailer and said, 'Hey, you gotta see this. You're gonna love this!' He flipped out and got in touch with us directly to say 'If there's anything I can do, let's make this work.'
Before he signed on, Reeves wanted to speak with Atencio to make sure the movie wasn't making fun of him. Atencio has nothing but nice things to say about his conversation with the man who gave his movie its title:
He wanted to talk to me before he agreed to make sure that wasn't the case. So I told him about the movie and talked him through the story. His personality has just transcended life, in a lot of ways. You wouldn't have ever guessed that the guy from Bill and Ted's Excellent Adventure would turn out to be this thoughtful, kind man.
So Reeves recorded his cameo in Rome, where he was filming John Wick: Chapter 2 and the rest is history. You can watch Keanu Reeves play Keanu in Keanu when the movie hits theaters this Friday.