'Snowden' Trailer: Here's The Movie That Will Ruin Many Family Dinners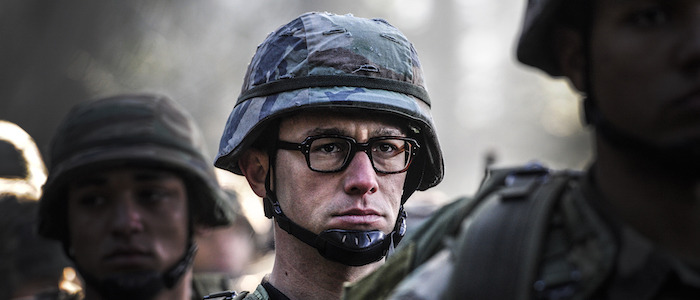 Few films have the capacity to completely derail a family gathering quite like Oliver Stone's upcoming Snowden, which tells the true story of the NSA contractor who leaked classified documents, exposed the shocking extent of government surveillance, and promptly fled the country to avoid arrest and charges of treason. Everyone has an opinion on Edward Snowden and the mere mention of his name is enough to turn pleasant conversations into verbal brawls. The question of whether he's a hero or a traitor continues to be debated by millions of Americans. It's a touchy subject. A controversial subject.
Which means it's perfect material for Stone, who is usually at his best when he's given the opportunity to rile people up. The new Snowden trailer is here and while it doesn't look as extreme as JFK, it certainly looks like it has more political bite than W.
The trailer runs down the necessary details, touching on Snowden's brief career in the military (which was ended by a severe injury in basic training) and his time working for the CIA and the NSA, where he found himself facing a moral crisis over the true extent of the illegal surveillance going on behind closed doors. And that's when his life essentially became a living, breathing John le Carré novel.
Joseph Gordon-Levitt stars as Edward Snowden, utilizing a strange impersonation of the real man's voice that I sincerely hope works better in the context of the film. He's backed up by a strong supporting cast, including Shailene Woodley, Melissa Leo, Zachary Quinto, Tom Wilkinson, Rhys Ifans, and Nicolas Cage. Even through his rough patches, Oliver Stone has always been able to recruit impressive actors to his cause and Snowden is no different.
The film itself remains a big question mark. Originally scheduled for an Oscar-friendly 2015 release date (there was even a trailer for it last year), the film was pushed to 2016 before getting delayed again. The official story was that Stone required more time to finish the film, which makes sense because this not the kind of movie you want to send out to theaters half-baked. If it's good, Snowden will get people talking (and yelling). If it's great, it may even receive some serious awards consideration. In either case, it's a political hot potato that many people probably wish would just vanish into thin air.
The only question I have is whether or not Snowden will offer anything that the fascinating, Oscar-winning documentary Citizenfour already did not.
Here's the official synopsis for the film:
Academy Award®-winning director Oliver Stone, who brought Platoon, Born on the Fourth of July, Wall Street and JFK to the big screen, tackles the most important and fascinating true story of the 21st century. Snowden, the politically-charged, pulse-pounding thriller starring Joseph Gordon-Levitt and Shailene Woodley, reveals the incredible untold personal story of Edward Snowden, the polarizing figure who exposed shocking illegal surveillance activities by the NSA and became one of the most wanted men in the world. He is considered a hero by some, and a traitor by others. No matter which you believe, the epic story of why he did it, who he left behind, and how he pulled it off makes for one of the most compelling films of the year.
Snowden will invade the privacy of theaters everywhere on September 16, 2016.