The Complete 'Twin Peaks' Revival Cast Feels Like A Practical Joke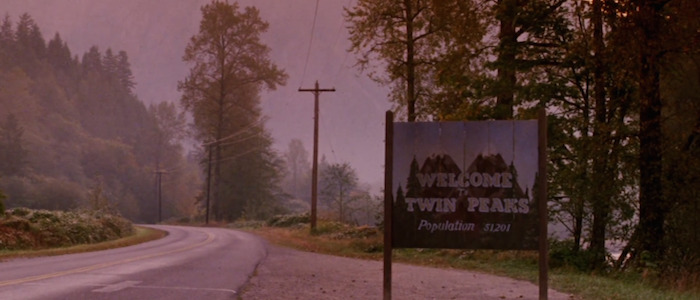 Showtime's revival of Twin Peaks has been filming under an impenetrable veil of secrecy. Anyone who knows what's going on with it isn't talking and for all we know, those who came close to getting chatty were met with a mysterious "accident." Even all of the casting news that has been steadily arriving over the past year has been met with total silence. Beyond original series creators David Lynch and Mark Frost writing the new season and Lynch directing every episode, almost nothing has been confirmed. Even the first trailer didn't tell us anything.
And now production on the new batch of episodes has wrapped and Showtime has unleashed the full cast list...and it is a doozy. There are 217 names on this list, a combination of original Twin Peaks cast members and newcomers, movie stars and character actors, people who feel like they'd fit perfectly into Lynch and Frost's crazy world and people who feel like they won't work at all (which means they're probably perfect for it).
We'll go through the particulars in a moment, but first, here is the complete list. The actors are presented in alphabetical order and it's not stated who any of the newcomers are playing. The list is so huge and baffling that it somehow deepens the general sense of mystery and confusion swirling around this series. Which is appropriate, really.

This list confirms the return of many characters from the original series, including Kyle McLachlan (Special Agent Dale Cooper), David Duchovny (Agent Dennis), Sherilyn Fenn (Audrey), Ray Wise (Leland), Madchen Amick (Shelly), Sheryl Lee (Laura/Maddy), Russ Tamblyn (Lawrence), Dana Ashbrook (Bobby), Peggy Lipton (Norma), Miguel Ferrer (Agent Rosenfield), Grace Zabriskie (Sarah), Wendy Robie (Nadine), and Catherine E. Coulson (the Log Lady), who died shortly after finishing her scenes. Michael Ontkean declined to return as Sheriff Harry S. Truman, so Robert Forster (Lynch's original choice for the part back in the day) has stepped in.
The newcomers are an eclectic bunch and it's hard to comprehend this batch of names somehow coexisting in the same project. You have the extremely recognizable people who have headlined entire movies like Naomi Watts, Michael Cera, Monica Bellucci, Tim Roth, Laura Dern, Ashley Judd, Amanda Seyfried, and Jennifer Jason Leigh. You have cool and weird character actors like Jeremy Davies, Ernie Hudson, David Koechner, Derek Mears, Matthew Lillard, Tom Sizemore, Harry Dean Stanton, and Ethan Suplee. You have the young under-the-radar talents like Caleb Landry Jones, Jane Levy, Sara Paxton, and Charlene Yi. You have musicians like Trent Reznor and Eddie Vedder. And then you have 82-year old television legend Richard Chamberlain, doing who-knows-what. And then you have Jim Belushi also doing who-knows-what.
That's just the tip of the iceberg. This list is full of people you recognize from a hundred other movies and television shows.
In any case, we still have a long wait ahead of us to see how all of these people figure into the plot, which will take place in modern time and will directly address the years gone by since the initial cancellation of the series in 1991. The number of episodes has not been revealed yet (that will reportedly be determined by Lynch himself in the editing room), but the series is expected to premiere in the first half of 2017.