Bryan Singer Teases Wolverine's Role In 'X-Men: Apocalypse' As "Birth Of A New Direction"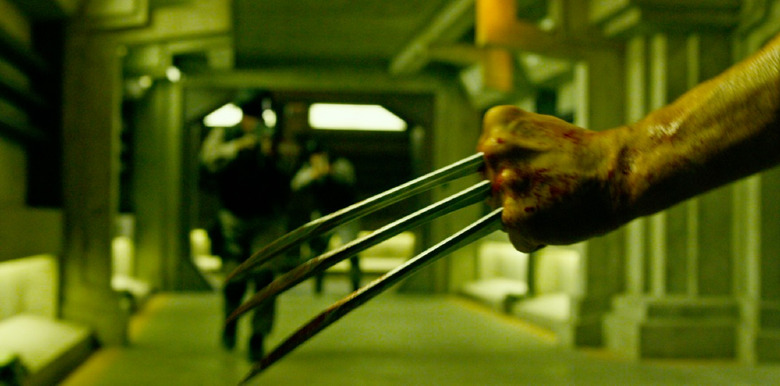 Just yesterday, the final trailer for X-Men: Apocalypse arrived, and along with all the destruction that comes from the film's title villain played by Oscar Isaac was a little tease of the return of Wolverine, played by Hugh Jackman. When we last left Wolverine in X-Men: Days of Future Past, he was being rescued from drowning by Mystique in disguise as William Stryker, and many fans have been wondering where we'll find him in this sequel.
The X-Men: Apoclaypse trailer offered a little hint of the clawed, healing mutant helping out the young versions of Cyclops and Jean Grey take down some bad guys. Now director Bryan Singer talks a little more about what we can expect from his place in the movie, which he says features "the birth of a new direction." Find out more about Wolverine in X-Men Apocalypse after the jump.
Bryan Singer took some time to speak to Empire, and when asked about the quick shot of Wolverine's claws at the end of the X-Men: Apocalypse trailer, he wasn't very forthcoming with specific details, but he did provide some insight into his place in the story. Singer says:
Make of that what you want. I will say, it's not simple. There's something more pivotal that occurs with that. It hints to a sequence that again fits within the canon of all six movies, and the birth of a new direction. It's not insignificant, nor is it simply just a throw-in... It's not the only shot you're gonna see, let's put it that way.
While Singer does tease Hugh Jackman's role in the movie as being "not insignificant," I'm willing to bet that the sequence in question is the only one we'll see him in. The more intriguing part is what Singer is talking about when it comes to fitting in with the canon of all six movies. That's interesting because that presumably means he's only talking about the primary X-Men movies and not the two Wolverine spin-offs.
What he probably means is that this ties into the origins of Wolverine as revealed primarily in X2: X-Men United. After all, the shot featuring Wolverine seems to be in the same kind of facility where he would have received his adamantium skeleton and claws from William Stryker. My only question is what Mystique's role was in helping him get there and why.
The other detail that tickles my curiosity is what Singer means when he says this sequence is the "birth of a new direction." Maybe he's just talking about this is where the timeline truly starts to change from what we know in the original X-Men movies since he's encountering the X-Men much sooner after these experiments were conducted than in the previous timeline. After all, this can't really serve as much of a new direction for Wolverine since Hugh Jackman is slated to only appear in one more movie as Wolverine after this. However, is there maybe a chance that Apocalypse could end up killing Wolverine, removing him from the new X-Men timeline altogether?
The good news is we won't have to wait long to find out since X-Men: Apocalypse arrives in about a month on May 27.