'Sherlock Holmes 3' Tracks Down A New Writer In James Coyne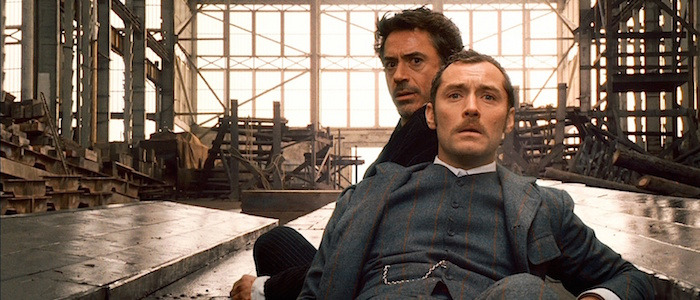 Just last week, Robert Downey Jr. offered an update on the next Sherlock Holmes movie, suggesting that a third film in the series could start filming later this year. Considering the apparent lack of momentum on the project, it sounded unlikely. If nothing else, it sounded like Downey trying to keep people interested in a project that was still nowhere close to existing. After all, the last serious piece of news about the film had arrived in 2011, when Iron Man 3 screenwriter Drew Pearce was hired to work on a screenplay.
However, it seems that he may have been more serious about this than expected, because a new writer has officially boarded Sherlock Holmes 3.
Deadline reports that James Coyne has been invited to take a crack at the third adventure of Robert Downey Jr.'s Sherlock Holmes and Jude Law's Dr. John Watson, although they make no mention of a 2016 start date. However, it's still expected for both stars to reprise their roles and for Guy Ritchie to return to the director's chair. Whether Coyne has been brought on to tinker with work Pearce had already completed or if this is a complete fresh start for the film remains unknown.
Although Coyne has a few credits to his name, none of them are particularly big films. According to his IMDB page, he's written screenplays for Vikingdom, Puncture Wounds, Ulysses: A Dark Odyssey, none of which ring a bell. However, Puncture Wounds is an action film starring Dolph Lundgren and Vinnie Jones, which paints a pretty colorful picture of what you can probably expect from it. In any case, everyone involved in the Sherlock Holmes series has actually read his work and I have not, so they surely know something that we don't.
What I'm curious about is how (or if) Sherlock Holmes 3 will handle the passage of time. Sherlock Holmes: A Game of Shadows climaxed with Holmes and Professor Moriarty plummeting over Reichenbach Falls in a recreation of the famous detective's "death" in the story "The Final Problem." In reality, this was author Sir Arthur Conan Doyle attempting to kill Sherlock Holmes off for good, only to bring him back a few years later due to popular demand. The previous film ended with Watson thinking his best friend dead, only for Holmes to reveal himself to be among the living (but only to the audience) shortly after every other character exits the scene. So it's entirely possible for Coyne to work a meta-textual layer into his story – there hasn't been a new Sherlock Holmes movie because Holmes has been hiding out, presumed dead.
Since both Sherlock Holmes films were enormous hits, we will undoubtedly see Sherlock Holmes 3 get made at some point. The question now is whether or not it goes before cameras this year or later.