'Preacher' Photos: Meet The Cast Of AMC's Twisted New Comic Book Adaptation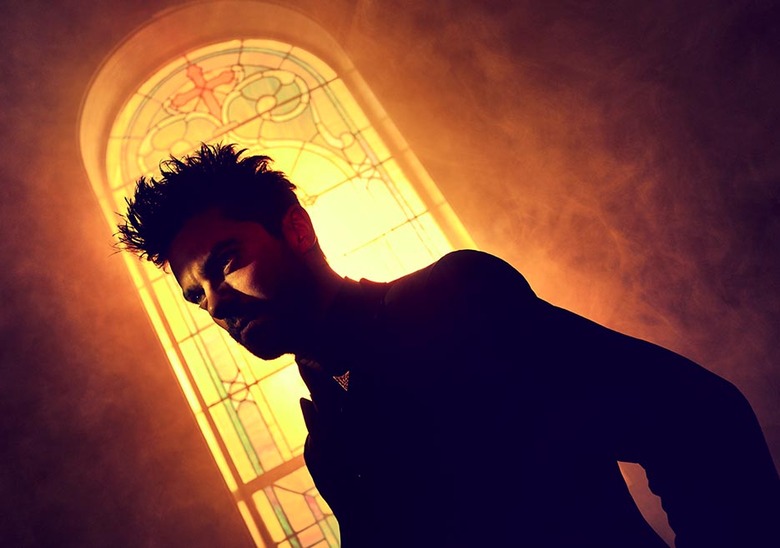 Preacher's road to the screen has been a long and rocky one, full of dead ends and false starts over years and years. But Seth Rogen, Evan Goldberg, and Sam Catlin finally made it happen at AMC, and as of now we're less than a month away from the show's premiere.
Based on the comic by Garth Ennis and Steve Dillon, Preacher follows a preacher who develops some very unusual powers. Together with his ex-girlfriend and a new vampire friend, he sets out on a journey that brings him in contact with all manner of characters from Heaven and Hell. Yup, it's just as weird and wild as it sounds. AMC has released a whole bunch of new Preacher photos to get you pumped up for the adaptation, and you can see them below.
AMC unveiled the Preacher photos on its website. From left to right in the big group photo, that's W. Earl Brown as Sheriff Root, Ian Colletti as Eugene a.k.a. Arseface, Lucy Griffiths as Emily (a new character created just for the show), Ruth Negga as Tulip, Dominic Cooper as Jesse Custer, Joseph Gilgun as Cassidy, Derek Wilson as Donnie Schenck, Anatol Yusef as DeBlanc, and Tom Brooke as Fiore.
Cooper may not look much like his comic book counterpart, and Negga even less like hers, but Gilgun seems pretty spot-on, right? Not that it matters a whole lot — it's more important that these actors (and the writers and directors and producers working with them) capture the spirit of their characters than it is that they resemble them exactly. And according to a lot of the early reviews, this trio manages to do just that.
"Preacher" is a supernatural, twisted and darkly comedic drama that follows a West Texas preacher named Jesse Custer, who is inhabited by a mysterious entity that causes him to develop a highly unusual power. Jesse, his badass ex-girlfriend Tulip and an Irish vagabond named Cassidy come together and when they do, they are thrust into a crazy world populated by a cast of characters from Heaven, Hell and everywhere in between.
Preacher premieres Sunday, May 22 at 10/9c on AMC.