Nathan Fillion Is Joining 'Guardians Of The Galaxy 2' As Tony Stark (Kinda)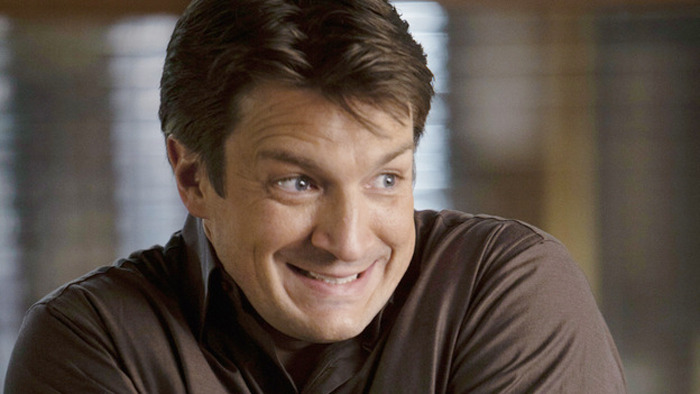 Nathan Fillion and James Gunn are good friends, so fans of the Firefly and Castle star were hoping that the director might give the actor a role in Guardians of the Galaxy. However, it appears that neither Gunn nor Fillion wanted to give him a role that would preclude him from having a more significant part in the Marvel cinematic universe, because he ended up having a more secret cameo as the voice of the blue alien who gets his sinuses cleared out by Groot in the Kyln.
In the case of Guardians of the Galaxy Vol. 2 though, it appears as if Fillion may have a more significant role. Or at the very least, it's a role where we'll see his face on screen. However, explaining the role of Nathan Fillion in Guardians of the Galaxy 2 dives into some potential spoiler territory so continue at your own risk.
Some new photos from the set of Guardians of the Galaxy 2, now in production in Atlanta, Georgia, have revealed that Nathan Fillion has at least a bit part in the movie. The set in question is a Simon Williams Film Festival which appears to be in a small town of some sort. For those who don't know, Simon Williams is also Wonder Man in the Marvel comics universe. For a time, he's part of the Avengers, but he also becomes a Hollywood star. So who better to play the character than Nathan Fillion?
How do we know Nathan Fillion is playing Simon Williams? Well, outside of a theater that advertises the Simon Williams Film Festival, there is a series of posters showing the movies that Williams has starred in. The titles of these movies, at least one in particular, seem to indicate that this film festival is taking place on Earth. Here's the gallery of images that popped up on Imgur (via ComicBook.com):
If you can't see through the blur, all the movie posters seem to be alternate versions of movies familiar to us on Earth.
First, there's there's a faux romantic comedy called Oh, Rebecca!, with an equally cheesy poster, and a movie called Haxan 2, likely a sequel to the 1922 Swedish-Danish silent film that's part of the Criterion Collection and certainly doesn't need a sequel. But the rest of the posters are a little more clever and intriguing.
One of the images is a poster for The Toxic Janitor 2, a clear reference to The Toxic Avenger, written and directed by Lloyd Kaufman, who not only has a role in the first Guardians of the Galaxy, but also worked with James Gunn on his first movie, Tromeo and Juliet. So that's a fun little reference.
Another movie titled Arkon clearly takes a cue from Conan the Barbarian. But what's interesting is that Arkon is another Marvel comics character. That means this is a poster for a movie based on a Marvel comic title, played by a character from Marvel comics in a movie that exists in the Marvel cinematic universe. It's enough to make your nose bleed.
But it's the poster for a movie called Tony Stark that really gives us a key as to when and where this scene takes place. You might notice that the poster is clearly a recreation of this Steve Jobs poster from last year. So taking into account that there's a movie about Tony Stark, a resident of Earth who would also have to be old enough to have a movie created about his life, this scene likely takes place in present day on Earth. There's a chance that it could take place sometime in the past, but probably not far enough back to be a flashback taking place before Star-Lord left Earth in 1988.
The question is whether or not we'll actually see Nathan Fillion as Simon Williams in the movie or if these posters are the only glimpse we'll get of the actor. Wouldn't it be a waste to have him in this role and not have it be a pivotal part of Guardians of the Galaxy 2? It would be awesome if this set up a potential future where Wonder Man might get his own movie, or at the very least for Wonder Man to appear with his super powers sometime down the road.
A video from a local shows that the scene takes place at the Simon Williams Film Festival features a bunch of extras running from some kind of destruction as cars were flipped in the middle of the street. Does that mean whoever the new villain in Guardians of the Galaxy decides to turn their eye on Earth? Will Star-Lord end up back home in the sequel? We'll have to wait and see.