'Vice Principals' Trailer: Danny McBride Is Clearly The Best Role Model For Kids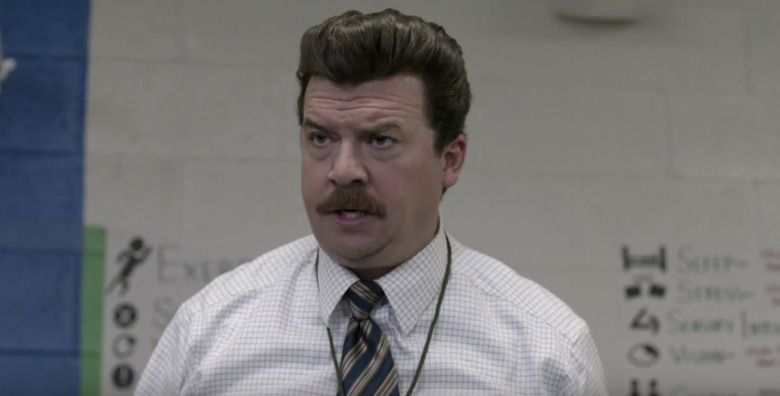 Last night was a big premiere night for HBO with the return of Game of Thrones, followed by the debuts of the new seasons of both Veep and Silicon Valley. And since millions were watching, the cable network decided to release a new Vice Principals trailer. Danny McBride plays Neal Gamby, who basically feels like a somewhat toned down Kenny Powers in a high school, the vice principal of discipline desperately vying for a new vacant position as the principal at Lincoln High School. But Walton Goggins, the vice principal of curriculum, isn't going to let that job go without a fight.
Watch the new Vice Principals trailer after the jump.
It doesn't seem quite as profane as the previous collaboration from Jody Hill and Danny McBride in HBO's Eastbound & Down, but it's definitely just as outlandish and ridiculous. There's no way these two wouldn't be fired immediately based on their actions in this trailer alone, but that's obviously where the comedy comes from.
HBO has already showed their faith in this new comedy series by ordering 18 episodes spread across two seasons. That normally doesn't happen at the cable network, so this must be pretty damn good. In fact, the show already premiered down at SXSW earlier this year and received some pretty good reviews.
Birth.Death.Movies says, "It's a mean comedy that will have you cracking up and cringing in equal measure, and it's made especially brilliant through the casting of Walton Goggins as an unhinged Southern dandy who will burn to the ground anyone who stands in his way."
Meanwhile, ScreenCrush adds, "Like Eastbound and Down, Vice Principals boasts a simple concept with absurdist, obnoxious characters and crass humor that pushes boundaries without ever sliding over into meanness and unpleasantry. Each of the two half-hour episodes screened at SXSW were relentlessly energetic and delightful, promising even better things to come."
The rest of the Vice Principals cast includes Georgia King (The New Normal) as an English teacher, Busy Philipps as Neal's ex-wife, Shea Whigham as her new husband, Kimberly Hebert Gregory as the principal, and Sheaun McKinney as a cafeteria worker. There's also a cameo from a big name comedy star in the pilot. We won't spoil that detail here, but you can find out who it is if you do a little digging.
Vice Principals hits HBO this summer on July 17. You can watch the first teaser trailer right here.