Guillermo Del Toro Wants To Share His Bleak House With The World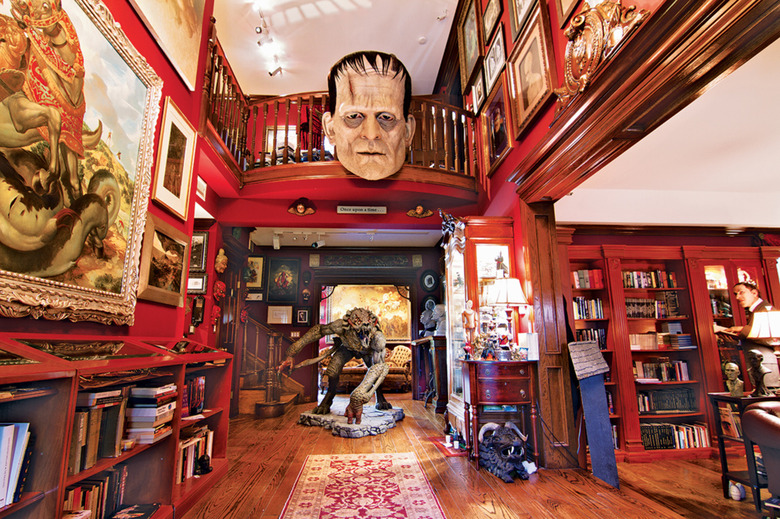 Partially inspired by the original research library at Disney studios, where artists were surrounded by inspiring images, filmmaker Guillermo del Toro wanted to create a space for himself to fuel his imagination. The Pan's Labyrinth and Crimson Peak director built a second house for himself, known as both the man cave and, inspired by the Charles Dickens' novel, the "Bleak House."
Del Toro has shared videos and images from the Bleak House in the past, but now his epic collection of memorabilia will go on display for movie fans, at least for movie fans in select cities. Learn more about the Bleak House exhibit below.
This summer Del Toro will share more than 500 pieces from his second home. Guillermo del Toro's House of Horrors will run from July until November at the Los Angeles County Museum of Art (LACMA), before visiting Minneapolis, Toronto, Mexico City, Barcelona, Paris, and, lastly, New York City.
In total, del Toro owns 580 pieces of art and "roughly" around 9,000 books. Discussing the Bleak House exhibit with HPA, the director says he's always been an avid collector:
I started collecting when I was a child. I have every single thing that I bought. I'm a monster guy. I love fantasy; I love reading. I have two houses for me and one house for my family. I live in the family home and I work in my two houses. The two houses are organized in libraries. There's a library for horror, a library for history, a library for art. I have about roughly eight to nine thousand books. I have roughly about fifty thousand magazine and comics. I have about five hundred and eighty original pieces of art; acrylics, oils.....I have secret passages behind bookshelves. I have a room where it rains all day. At fifty-one I live the life of a well-financed twelve year-old.
Del Toro adds:
It happens to all of us, our house is who we are. Even if people say not to judge a book by its cover, we are what we own. And I know the difference between collecting or accumulating is very, very, very small. A hoarder accumulates compulsively while the collector lives through their objects, every book, every object has a meaning. And that's me.
If you're a fan of the director and live in one of the cities listed above, then consider yourself lucky. Not only will you get to study hundreds of pieces of rare memorabilia, but you'll also see what helps make del Toro tick as a storyteller. However, if you're not in one of the cities listed above, then here's the filmmaker himself providing a brief tour of the Bleak House (and you can read this in-depth New York Times piece on the man cave as well):