'Goldfinger' Director Guy Hamilton Dead At 93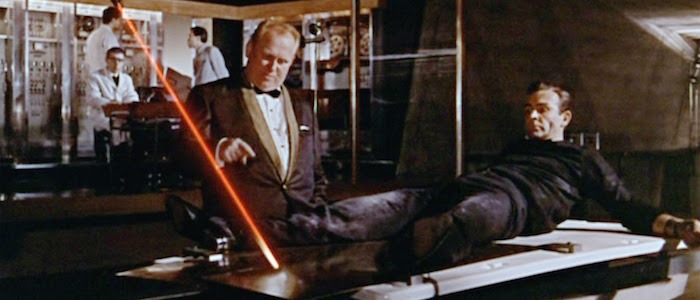 It's easy to take the James Bond movies and the iconography that accompanies them for granted. This character and his film series have been a part of pop culture for long that it's easy to think that Agent 007 and his world arrived fully formed, to forget the many artists who contributed to his creation. Director Guy Hamilton, who directed four James Bond movies (including the iconic Goldfinger) has passed away at the age of 93. His death is sobering reminder that the men and women responsible for so many of our great movie moments are still among us and deserve to be treasured.
Born in 1922 in Paris, France to English parents, Hamilton entered the film industry after serving in the Royal Navy during World War II. He initially worked as an assistant director for Carol Reed, lending his talents to The Fallen Idol, The Third Man, and Outcast of the Islands. He also worked as an assistant director under John Huston on 1951's The African Queen. Hamilton made his directorial debut with 1952's The Ringer and immediately followed it up with 1953's The Intruder, both of which established the template for the rest of his career. When he wasn't making murder mysteries, he was usually making dramas and adventure films about tough guys.
Although he turned down the offer to direct Dr. No (the first James Bond movie), he returned to direct 1964's Goldfinger, the film that transformed the Bond series from a hit into a phenomenon. Even those who aren't familiar with 007 are familiar with the iconography on display in this film: a dead woman painted gold, a mute henchman with a deadly bowler hat, and James Bond strapped to a table, a laser slowly inching toward his groin.
Hamilton continued to work steadily through the 1980s, but he's best know for directing three more James Bond movies: Diamonds Are Forever, Live and Let Die, and The Man With the Golden Gun. The latter two films introduced Roger Moore's take on 007 to the world, which was a monumental task at the time. Transitioning to a new Bond actor is now commonplace and accepted – Hamilton made it look easy. Moore himself mourned the death of Hamilton on Twitter:
Incredibly, incredibly saddened to hear the wonderful director Guy Hamilton has gone to the great cutting room in the sky. 2016 is horrid.

— Sir Roger Moore (Legacy) (@sirrogermoore) April 21, 2016
The Bond producers at EON Productions issued the following statement:
We mourn the loss of our dear friend Guy Hamilton who firmly distilled the Bond formula in his much celebrated direction of Goldfinger and continued to entertain audiences with Diamonds are Forever, Live and Let Die and The Man With The Golden Gun. We celebrate his enormous contribution to the Bond films.
Hamilton passed away at his home in Majorca, Spain. He will be remembered for as long as James Bond movies continue to get made...which means he'll be remembered forever.