Robert Downey Jr. Confirmed To Appear In 'Spider-Man: Homecoming'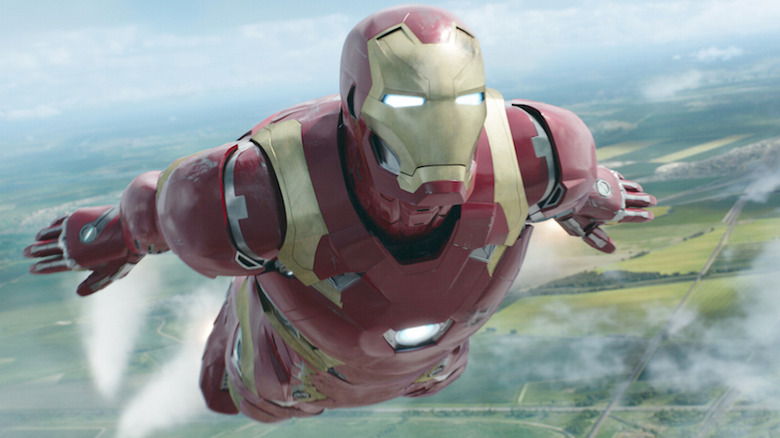 After teasing the possibility of an appearance in Spider-Man: Homecoming while making a stop at Jimmy Kimmel Live last week, Robert Downey Jr. has been confirmed to reprise his role as Tony Stark in the Marvel Studios collaboration with Sony Pictures. The casting move continues to solidify Spider-Man's new place in the Marvel cinematic universe following his forthcoming debut, being played by Tom Holland, in Captain America: Civil War next month.
News of Robert Downey Jr in Spider-Man Homecoming was revealed by Variety, however, details are pretty scarce at this time. The size of his role remains unknown for now, but considering that he's the one to bring Spider-Man into the title superhero conflict in Captain America: Civil War, surely he'll have a role in how he continues to develop as a superhero. After all, it's Stark who helps Spidey with the suit that we see him wearing in the Marvel Studios flick.
Tom Holland and Robert Downey Jr. share a pivotal sequence together in Civil War. We won't spoil the finer details, but their chemistry is great, and it promises that whatever Downey has to do in Spider-Man: Homecoming will be something fans will enjoy. I wouldn't count on Iron Man coming in to save the day necessarily, since Spider-Man definitely has to prove himself as a standalone hero for this franchise reboot, but Tony Stark is bound to help him with some signature tech.
So far all we know about Spider-Man: Homecoming is that it will follow Peter Parker in high school and he'll already be established as Spider-Man. Michael Keaton is said to be in talks to play a villain, possibly Vulture, while young cast members Zendaya, Tony Revolori and Laura Harrier have already been rounded up to play some of Parker's classmates.
Cop Car helmer Jon Watts is directing the film with a script from Jonathan Francis Daley and Jonathan Goldstein. With the cast filling up and production expected to start this year, hopefully we'll get some more details soon. In the meantime, get pumped to see Spider-Man appear in Captain America: Civil War on May 6.