'Three's Company' Movie May Come Knock On Your Door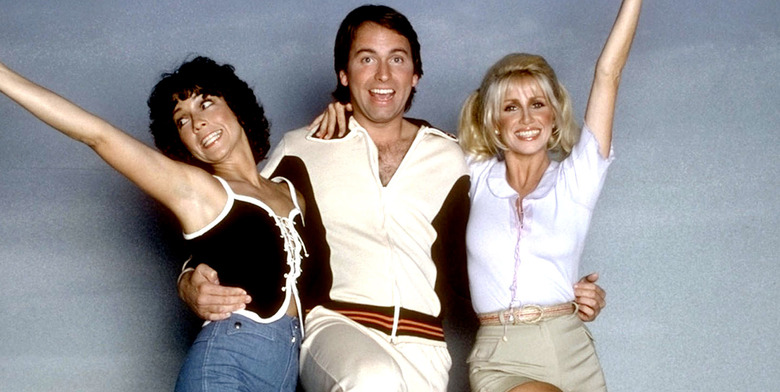 Plenty of classic TV shows have been given the big screen treatment. The Brady Bunch got a pair of spoof-esque movies, while The Addams Family got a couple movies that were a little more earnest and charming. Plus The A-Team and 21 Jump Street got two very different big screen updates, just to name a couple more. Now one more classic comedy series wants a crack at movie theaters.
New Line is currently in talks to pick up the rights to the comedy series Three's Company, which starred John Ritter, Joyce DeWitt and Suzanne Somers. Find out more about the potential for a Three's Company movie after the jump.
The Hollywood Reporter reveals He's Just Not That Into You scribes Abby Kohn and Marc Silverstein would write the script for the adaptation of the comedy series, with Robert Cort (Cocktail, Runaway Bride) coming on board to produce with Don Taffner Jr. Since the script hasn't even been written and New Line is just now in negotiations, it's pretty early days on this project.
For those who might not be aware, Three's Company aired on ABC for eight seasons from 1977 to 1984. The comedy followed two single women (DeWitt and Somers) living in Santa Monica who decide to bring in a man named Jack Tripper (Ritter) as their roommate. Since this happened at a time when the idea of single women living with single men without romance or marriage involved was taboo, the trio were forced to put up a front for their landlords by making it seem as if Jack was gay.
How long can you keep that kind of ruse up without it becoming ridiculous? Well, apparently eight seasons comprised of 127 episodes. Here's the very 70s opening credits for the show:
The British series that inspired Three's Company, titled Man About the House, lasted six seasons. But since our friends in the UK are much more concise and frugal with their TV shows, they only had 39 episodes and a Christmas special short that aired in 1973.
Three's Company also crafted some iconic characters in the landlords played by Normal Fell and Aurdra Lindley, and those parts will be just as important to the casting of the film as the three leads. The landlords even got their own spin-off series, though it didn't last very long. Later Don Knotts become another land lord, but it's unclear if his character will make it into the feature film.
The film adaptation will be set in the 1970s, mostly because the plot in the contemporary world wouldn't make much sense. Since the project is only just beginning development, there's a chance it might not come to fruition. Stay tuned.