'Sherlock Holmes 3' Is Still Afoot, Says Robert Downey Jr.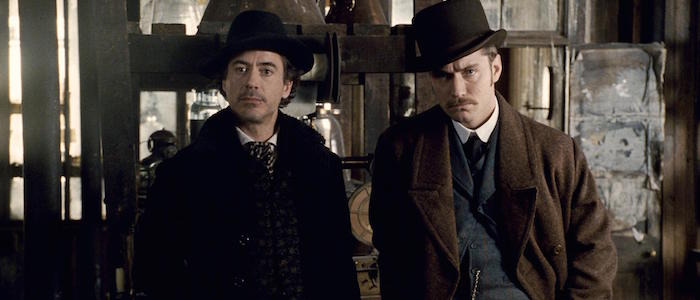 Guy Ritchie's Sherlock Holmes was one of 2009's more pleasant surprises, a slick, silly, and surprisingly faithful cinematic re-imagining of Sir Arthur Conan Doyle's legendary "consulting detective." It's 2011 sequel, Sherlock Holmes: A Game of Shadows, wasn't nearly as good, replacing much of the original's charming bombast with very loud bombast. But I'd be lying if I said I didn't enjoy the rapport between Robert Downey Jr.'s insufferable genius investigator and Jude Law's put-upon Dr. Watson. I'd be lying again if I said I wouldn't plunk down the cost of a movie ticket to watch those two bicker and banter one more time.
And while we haven't heard any solid news about Sherlock Holmes 3 for a few years, Downey Jr. himself says the film is still in development, even hinting that it may shoot later this year.
Downey Jr. has been making the press rounds for Captain America: Civil War, which means he's had the opportunity to talk about the dozen or so other projects on his plate. ShortList spoke to him about the status of the third Sherlock Holmes movie and he confirmed that it is still alive:
"We're talking about it right now. We can do some preliminary stuff."
He elaborated, explaining that the busy schedules of everyone involved make getting together for another movie a tricky, exhausting proposition:
"If we could shoot it on Skype, we could have the whole [movie] done in a week. When we're making those Sherlock movies it is off the hook. [So] we'll attempt to make one this year. It really is a big deal to go and do those movies. I'm tired all the time, but I'm so excited about it."
Of course, the interesting phrase there is "we'll attempt to make one this year," which sounds wildly optimistic. After all, production this year would require Ritchie to finish up his King Arthur movie (which is due out March 24, 2017) in record time while screenwriters Drew Pearce and Lionel Wigram hammer out a screenplay worth shooting while Downey Jr. and Law both carve out enough time to film the project.
I have a hard time believing that Sherlock Holmes 3 won't get made eventually since the first two films grossed north of $500 million worldwide, but I'll remain nice and skeptical about a 2016 start date for now. Maybe 2017, if Avengers: Infinity War doesn't occupy every waking moment of Downey Jr.'s existence. And even that would require Ritchie to not be pre-occupied with those King Arthur sequels that are apparently already in the works.
So there you go. Sherlock Holmes 3 – everyone wants to make it! But who knows when?