'The Founder' Trailer: Michael Keaton "Founds" McDonald's, Leaves Hopes And Dreams Shattered In His Wake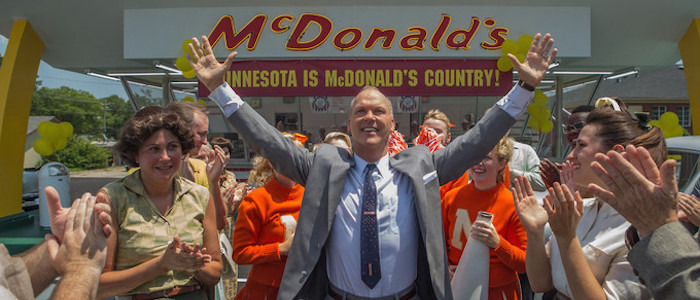 Every successful business is a story. There are those hopeful and desperate beginnings, when someone puts their livelihood on the line to pursue a dream. There are those dramatic rises to power, where everything pays off and the money and accolades start to roll in. And, often enough, there are those dramatic third acts where all kinds of chickens come home to roost and the shape of that original dream has been distorted beyond measure.
The Founder tells the story of Ray Kroc, the struggling businessman who stumbled across a homegrown hamburger restaurant called McDonald's, recognized its potential for greatness, and dragged it kicking and screaming into the future, where it set the template for how Americans would consume food for the rest of the century and beyond. Oh, and as the new trailer makes it clear, he was probably a bit of a dick.
Here's the first The Founder trailer from USA Today:
National treasure Michael Keaton stars as Kroc, who sells a couple of milkshake machines to a restaurant owned and operated by Richard McDonald (Nick Offerman) and Maurice McDonald (John Caroll Lynch), sees their revolutionary system for preparing food quickly, and decides to get in on the action. What begins as a stable partnership soon crumbles as Kroc seizes control of the company and begins to franchise the McDonald brothers' system. The rest of the cast includes Laura Dern, Patrick Wilson, B.J. Novak, and Linda Cardellini.
Maybe it's because I've lived my entire life in a nation where you can't drive ten minutes without stumbling across another Golden Arches, but this all looks completely and totally fascinating to me. Then again, I would never say no to a few hours of Keaton being a conniving scumbag who destroys more than a few lives just so he can get a piece of hamburgers that are ready to go in 30 seconds.
The Founder is the latest film from John Lee Hancock, a capable director who has built his career on crowd-pleasing, down-the-middle entertainment. This looks like an interesting change of pace for the filmmaker, whose movies have often dwelled in more uplifting realms where good people get what they deserve. After all, this trailer does name-drop The Blind Side. However, the fact that screenplay for his latest film was written by Robert Siegel, the cynical scribe behind The Wrestler and the hugely underrated Big Fan, suggests that this will have a sharper edge than many of Hancock's previous films.
The Founder will open in theaters on August 5.