'Lady Dynamite' Trailer: Maria Bamford Has A Hilarious Breakdown In A New Netflix Series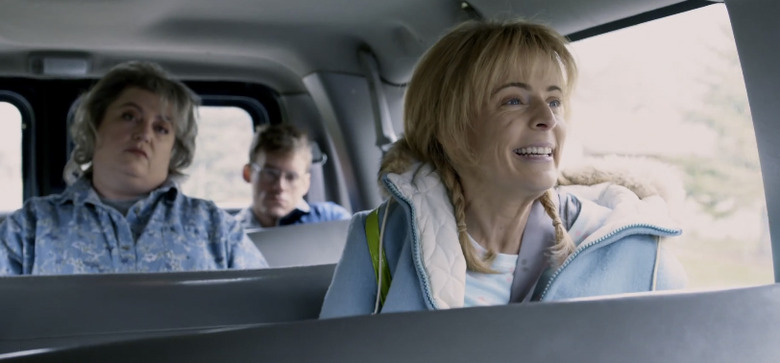 Hopefully you're familiar with Maria Bamford due to her outstanding stand-up comedy. If not, you might have seen her on the most recent episodes of Arrested Development, or heard her voice WordGirl or Adventure Time. Otherwise, she's also been the star of several Target commercials that have been all over television. But now she's finally getting her own show.
Lady Dynamite is a semi-autobiographical comedy series coming to Netflix this summer, but it's adding a bit of the bizarre and surreal to help bring it to life. Watch the first Lady Dynamite trailer below to see what we're talking about.
Here's the Lady Dynamite trailer straight from Netflix:
As you can see, things get more than a little quirky and silly from time to time. However, that comes with the territory since the show focuses on Bamford having a bit of a mental breakdown while trying to make a career for herself as a comedian and actress in Hollywood. There's some truth to be found in the absurdity though, because Bamford has been very open about her battles with depression, bipolar disorder, therapy and more.
To call Bamford's comedic style simply quirky would be a disservice to just how smart and intimate her stand-up comedy is. If you would like some more insight into her personality outside of crafting her act, you should watch the documentary The Comedians of Comedy. It's one of Netflix's earliest productions, and it also features Patton Oswalt, Brian Posehn and Zack Galifianakis (before his breakthrough in The Hangover) and it's a fascinating look behind the scenes of a comedy tour and the life of a comic. Or you can check out Maria Bamford: The Special Special Special, which was performed and recorded in front of only her real parents at her own house.
Bamford is joined by plenty of outstanding talent here, including Ana Gasteyer, Andy Daly, Jason Mantzoukas, Fred Melamed, Ed Begley Jr., Bridget Everett and more. To sweeten the deal, the show hails from Arrested Development creator Mitch Hurwitz and South Park producer Pam Brady.
This is the true story of a woman who loses — and then finds — her shit. Based on what she has accepted to be "her life," the semi-autobiographical, semi-surreal series is a truthful look at the highs and lows of Maria Bamford's life — as an actor on the rise, during her hospitalization for bipolar disorder, and through her present life in LA, where she's reached a middle ground and found love.
Lady Dynamite premieres all 12 episodes on May 20, exclusively on Netflix.