Alfonso Cuarón Is Helping Andy Serkis With 'The Jungle Book'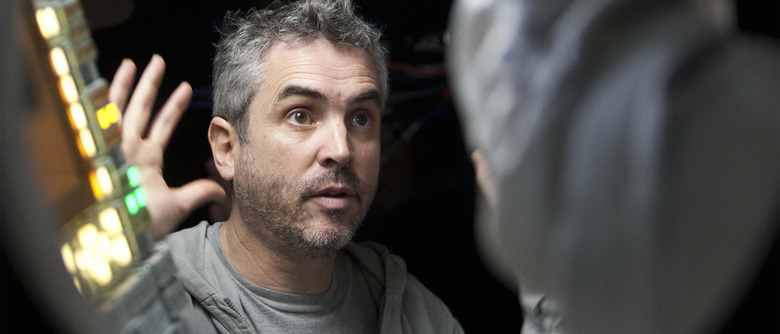 For some time now, Andy Serkis has been working on his directorial debut The Jungle Book, a "dark" take on Rudyard Kipling's source material. The film was originally supposed to open in 2016, but was pushed to 2017 and then to 2018. Clearly, Serkis is willing to take the time to get it right. And to that end, he's just brought in a bit of outside help. Alfonso Cuarón has reportedly been brought on board to give notes on the production. 
The Hollywood Reporter writes that Serkis and studio Warner Bros. have gotten Cuarón to "consult" on the project. The specifics of what exactly he'll be doing and how deeply he's involved remain murky, but Deadline's sources stress that Cuarón is not taking over the movie and that he likely won't even get an onscreen credit. Cuarón has a strong relationship with the studio, having worked with them on Gravity and Harry Potter and the Prisoner of Azkaban — both huge moneymakers that were also beloved by critics.
Serkis has been on the cutting edge of motion capture technology, appearing in the Lord of the Rings and Planet of the Apes movies among many others. However, Jungle Book is his first time directing, and it sounds like a pretty ambitious project by any standard. Cuarón, an experienced director whose Gravity wowed audiences with its utterly lifelike depiction of space travel, should be a useful resource in helping Serkis get The Jungle Book where it needs to be.
The timing on Serkis' Jungle Book means it'll inevitably get compared to Jon Favreau's competing Jungle Book, which just recently brought in a massive haul for studio Disney after drinking in praise for its realistic animation. So it's probably just as well Serkis' movie isn't coming out until 2018 — not only will Serkis have more time to perfect his film, that two-year gap could help distance Serkis' Jungle Book from Favreau's Jungle Book.
And Serkis' Jungle Book sounds plenty promising. Serkis himself is playing Baloo, with Benedict Cumberbatch as Shere Khan, Christian Bale as Bagheera, and Cate Blanchett a Kaa. The script by Callie Kloves sounds darker than Disney's recent adaptation. "What I love about the screen adaptation by Steve and Callie Kloves is it's very truthful to the original book; it doesn't shy away from its darkness," said Serkis in 2014. "The jungle is a Garden of Eden and a wonderful place for Mowgli to grow up in, but also is a place of fear and a place of threat." In other words, we're probably not going to get any cuddly singing bears.
The Jungle Book opens October 19, 2018.