Jeff Goldblum May Be Heading Into A Superhero Movie Universe Sometime Soon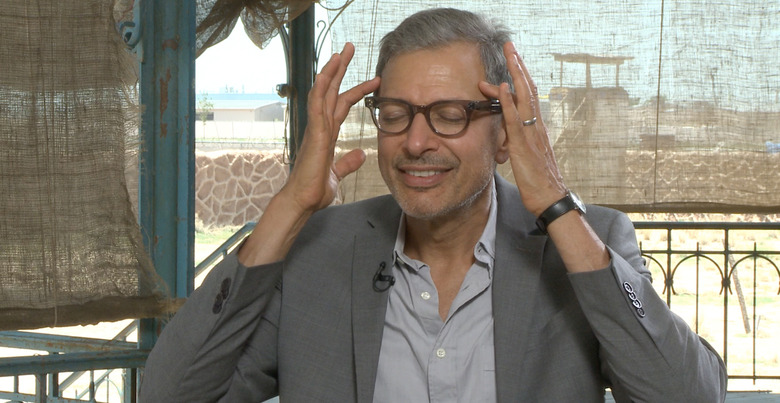 Even though Jeff Goldblum is getting in sequel mode this summer with Independence Day: Resurgence, there's no indication that he'll be returning to the Jurassic Park universe anytime soon, though Jurassic World 2 just confirmed a director. However, that doesn't mean we won't see Jeff Goldblum backing down from blockbuster territory. The actor has hinted he'll be heading into the superhero genre. Find out more about this potential Jeff Goldblum superhero movie casting below.
CinemaCon was just last week, and Jeff Goldblum was in attendance for the 20th Century Fox presentation to help promote Independence Day 2. That's where he spoke to MTV, and along with all the odd tangents that come about when you speak to the eccentric but delightful actor, he seemed to indicate that we'll see him in a superhero movie sometime soon. Interviewer Josh Horowitz said, "Why have I not seen you in a superhero movie yet? I feel like you've gotten offers. You've met with Marvel or DC. It has to have happened." Goldblum played coy but did say:
Uhhh, I can say very little right now. But you might be onto something.
Horowitz followed up by asking if he was more of a Marvel or DC guy, and Goldblum made an odd face and said, "What's the difference? They're both comic franchises." Doesn't sound like a big fan of comic books, but that doesn't mean he can't turn in an outstanding performance in a comic book movie. Goldblum likes to tease, but I doubt he's trying to mess with people this time. It doesn't really behoove him to tease like that. You can watch the interview right here if you're interested:
For my money, I'd like to see Goldblum play some kind of villain in the Marvel universe. More specifically, I think he'd fit in very well with the cosmic side of the cinematic universe, maybe with a role in Captain Marvel or a Guardians of the Galaxy movie. That would be something exciting. Or maybe Justice League or one of its members' standalone movies will recruit him sometime soon. Only time will tell.
As for any chances of seeing Goldblum running from dinosaurs again, the actor says he hasn't been contacted about returning, and he doesn't seem to be worried about it, "More power to them. I think they're flourishing without me quite well. I had a lovely, nourishing experience in the two that I, you know, pestered them with." And for the record, he hasn't seen Jurassic World yet.
If you want to hear more of Jeff Goldblum's fantastic speaking cadence, check out my interview with him from the set of Independence Day: Resurgence last year.