'The Infiltrator' Trailer: Bryan Cranston Takes Down A Drug Empire For A Change Of Pace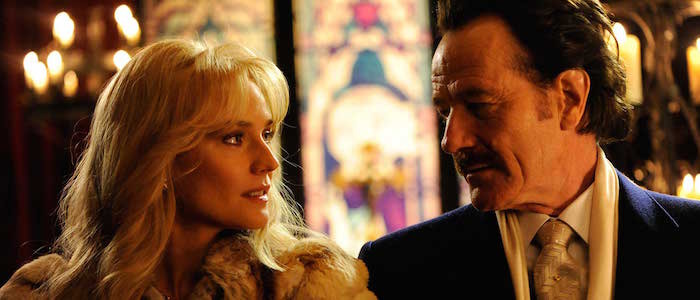 Over the course five increasingly intense seasons of Breaking Bad, Bryan Cranston's Walter White built a drug empire that damaged and destroyed the lives of countless characters. Perhaps Cranston believes in establishing some kind of cinematic karmic balance, because his new movie is all about him attempting to take down a drug empire. The Infiltrator tells the true story of DEA agent Bob Mazur, who went undercover in Pablo Escobar's network of drug suppliers and corrupt bankers and ended up pulling off one of the largest drug busts in history. The new trailer for the film has the rest of the necessary details.
Based on Mazur's book of the same name, The Infiltrator features a supporting cast that includes John Leguizamo as Mazur's unpredictable partner, Diane Kruger as the inexperienced agent tasked with posing as his fiancee, and Benjamin Bratt as one of Escobar's chief lieutenants, whom Mazur "befriends" as part of his operation. Amy Ryan is also on hand to look intimidating and spout exposition, the kind of thankless job that you might as well give to a talented actor just to keep things moving.
While the beats of the trailer will look familiar to anyone who has seen a handful of crime movies, the fact that this is based on a true story should hopefully help smooth out any cliches that pop up in the narrative. As long as the execution of said cliches is on point, of course.
The Infiltrator is directed by Brad Furman, whose previous credits include the rock-solid and surprisingly re-watchable The Lincoln Lawyer and Runner Runner, the gambling thriller than vanished off the face of the earth shortly after its 2013 release. Hopefully, this film is much more of the former.
Here's the official synopsis:
Based on a true story, Federal agent ROBERT "BOB" MAZUR (Bryan Cranston) goes deep undercover to infiltrate Pablo Escobar's drug trafficking scene plaguing the nation in 1986 by posing as slick, money-laundering businessman Bob Musella. Teamed with impulsive and streetwise fellow agent EMIR ABREU (John Leguizamo) and rookie agent posing as his fiancé KATHY ERTZ (Diane Kruger), Mazur befriends Escobar's top lieutenant ROBERTO ALCAINO (Benjamin Bratt). Navigating a vicious criminal network in which the slightest slip-up could cost him his life, Mazur risks it all building a case that leads to indictments of 85 drug lords and the corrupt bankers who cleaned their dirty money, along with the collapse of the Bank of Credit and Commerce International, one of the largest money-laundering banks in the world.
The Infiltrator will open in theaters on July 15, 2016. Cranston, who is fresh off an Oscar nomination for his work in Trumbo, can also be seen this summer as President Lyndon Johnson in HBO's All the Way.