'Mike And Dave Need Wedding Dates' Red Band Trailer: Anna Kendrick & Aubrey Plaza Toke It Up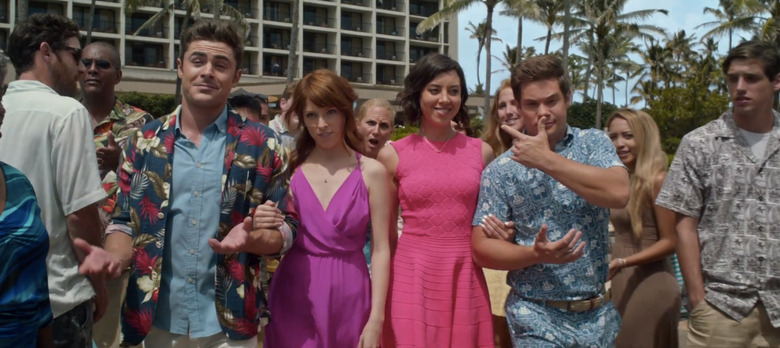 The last time Aubrey Plaza and Zac Efron got crazy together, it was with Robert De Niro in the dreadful Dirty Grandpa. However, in Mike and Dave Need Wedding Dates, they have Workaholics star Adam DeVine and Pitch Perfect leading lady Anna Kendrick to help out. Plus, it helps that the script comes from Andrew J. Cohen and Brendan O'Brien, the scribes behind the hit comedy Neighbors and the sequel coming this summer.
A new Mike and Dave Need Wedding Dates red band trailer has arrived, featuring Anna Kendrick and Aubrey Plaza scamming the hell out of our title characters, who are desperate for some respectable ladies for their sister's wedding. This actually doesn't look half bad. Watch the new trailer below.
Here's the Mike and Dave Need Wedding Dates red band trailer from 20th Century Fox:
Seeing Plaza and Kendrick get a little crazy together looks like a lot of fun. I'm all for any comedy that lets the female leads be just as reckless and raunchy as the male leads. That's part of what made Neighbors so fun with Rose Byrne being just as irresponsible as Seth Rogen. However, I'm a little worried that this is going to tread into Wedding Crashers or even Meet the Parents territory too much. But maybe there's only so much that can go wrong on a wedding weekend, so we're bound to tread the same ground no matter what.
As of now, my only reservation is that Adam DeVine seems to be a little over the top. That's his trademark comedy style, and most of the time it works, especially in the Pitch Perfect movies. But sometimes it can get a little grating. Maybe Efron's more reserved comedy style will help balance it out in the end. It's all up to director Jake Szymanski at this point, and I'm hoping that he got some good use out of Stephen Root other than making him the grumpy, judgmental father.
If you need a less raunchy tease of the summer comedy, watch the green band trailer right here.
Hard-partying brothers Mike (Adam Devine) and Dave (Zac Efron) place an online ad to find the perfect dates (Anna Kendrick, Aubrey Plaza) for their sister's Hawaiian wedding. Hoping for a wild getaway, the boys instead find themselves outsmarted and out-partied by the uncontrollable duo.
Mike and Dave Need Wedding Dates arrives on July 18 this summer.