Episode 8 Bits: Luke And Rey's New Costumes, The Return Of The A-Wing, And The Mystery Of Noah Segan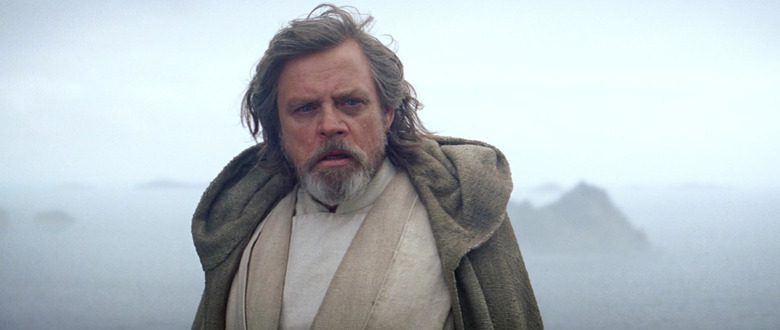 Welcome back to Episode 8 Bits, your friendly neighborhood source all kinds of Star Wars: Episode 8-related...bits. In today's edition:
A description of Luke and Rey's new costumes.
Oscar Isaac compares Episode 8 to an independent film.
Noah Segan joins the cast in a mystery role.
Members of the British royal family visit the set...
...and reveal the return of the A-Wing?!
A new look at the Ahch-To sets in Ireland.
Mark Hamill beautifully trolls his Twitter followers.
Episode 8 supposedly begins right where The Force Awakens ended, but it sounds like the main characters will find some time to change their clothes. Making Star Wars caught a glimpse at the new duds worn by Rey and Luke Skywalker in the new film and they shared the details. First up is Rey, whose outfit hasn't changed too much:
Rey's costume is very much what we saw in The Force Awakens at the very end of the film. She has the grey capri-length pants with boots as well as the arm wraps. But her vest from the end of the film is gone and she's only wearing the off-white-colored tunic beneath, giving the costume a Luke Skywalker vibe. Her hair is also worn down now. She still wears the gun at her hip she received from Han Solo in The Force Awakens. I think that might be telling about where Rey is at in terms of her training and state.
However, it sounds like Luke has a few extra robes in storage on Exile Island:
Luke Skywalker wears a darker costume compared to what we saw in The Force Awakens. This costume is more evocative of his Return of the Jedi clothes in cut and color. His undertunic reminds me of Count Dooku but his very dark grey cape drops over the top of his shoulders and chest like a shawl. This leaves his right arm free but half of his chest covered by the cape. It's almost similar to the asymmetrical cut of Captain Phasma's cape, but more like a shawl in the way it cover his chest.
The same article notes that Luke will once again wear a black leather glove over his robotic hand, as seen in Return of the Jedi.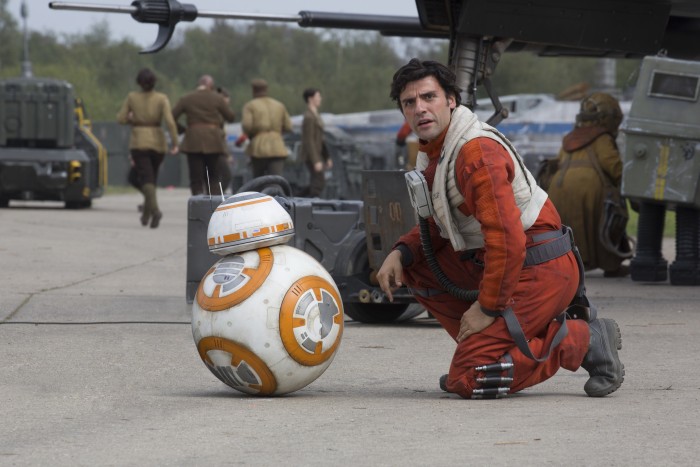 While promoting The Force Awakens, screenwriter Lawrence Kasdan spoke about director Rian Johnson's vision for Episode 8, describing it as "some weird thing" that would take the saga to strange and and unexplored areas. Oscar Isaac, a.k.a. Poe Dameron, has backed up that assessment, promising a film that breaks new ground for the Star Wars series:
I would agree with [Kasdan]. Rian is definitely going to places and investigating things that haven't really been done in the Star Wars universe. For me, it's so fun getting to explore different things that I wouldn't have expected in this universe. In some ways it feels like we're making an independent film. Certain things we get to play with – this kind of intimacy that we get to find – it's special. It's been really fun.
It's hard to imagine Johnson, whose previous films include Brick, The Brothers Bloom, and Looper, making a film that doesn't try to push the envelope in some way. After all, why do you hire someone like him unless you want to break Star Wars wide open? In any case, I'm as excited as ever to see what makes Episode 8 different and where Johnson intends to steer the series.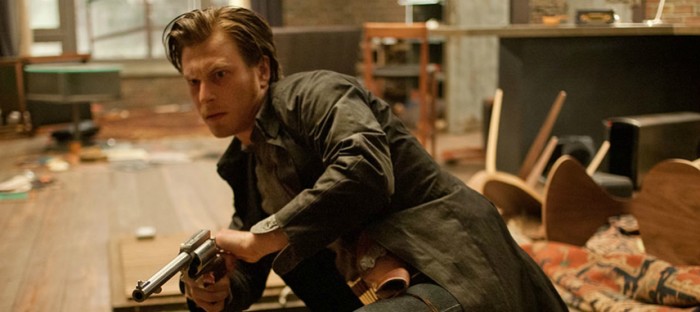 J.J. Abrams cast his buddy/good luck charm Greg Grunberg in The Force Awakens because he casts him in every movie he makes. Naturally, Rian Johnson has apparently cast Noah Segan in Episode 8 because he casts him in every movie he makes. The news was partially unveiled in a hilarious and cheeky post over at Birth Movies Death (where Segan is an occasional contributor), where the site bemoans the fact that their good buddy won't give up any details about who he's playing in the film:
So when Noah took off for London recently, we all knew he was going to Pinewood for Star Wars, and we naturally assumed we'd be waved into his inner circle of privileged knowledge. But when pressed for details, suddenly Noah's good pals at BMD were on his pay-no-mind list. Ghosted. That's messed up, Noah.
And this is where it's left us. If you, dear reader, have some inside info, or happened to catch Noah in a chatty mood in a London pub this month, or possibly overheard something at a deathwave barbecue, please hit us up and fill us in.
Naturally, Rian Johnson himself came back with the best possible response: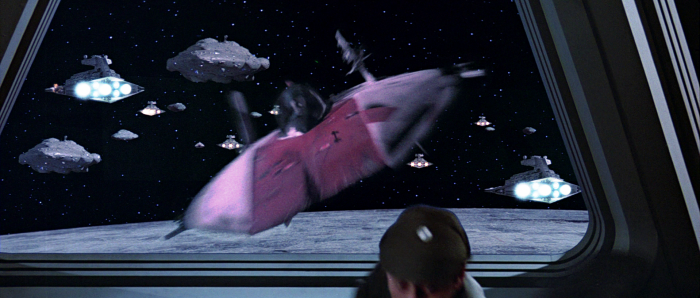 Yesterday, members of the British royal family stopped by the set of Star Wars: Episode 8 and there were photo opportunities a'plenty! Specifically, the set of the top-secret production was visited by the Duke of Cambridge (a.k.a. Prince William) and Prince Harry to help showcase how many jobs the Star Wars series has been consistently bringing to the United Kingdom. After all, The Force Awakens, Rogue One, and now Episode 8 have all filmed at Pinewood Studios outside of London.
The Duke meets Luke Skywalker @HamillHimself and @starwars director @rianjohnson pic.twitter.com/XDizZ6GR2y

— The Prince and Princess of Wales (@KensingtonRoyal) April 19, 2016
As you can see in the image above, the Duke and the Prince mingled with Mark Hamill and Rian Johnson in front of a Resistance X-Wing...
Don't forget BB-8 – The Duke and Prince Harry say hi to the @starwars cast!https://t.co/9ibP96L2vS

— The Prince and Princess of Wales (@KensingtonRoyal) April 19, 2016
...before they shared a moment with BB-8. We can safely assume that this set must be the Resistance base, which might have relocated since the events of The Force Awakens. Then again, there may be more than one Resistance base.
Prince Harry has made a new friend... pic.twitter.com/mTra1UoSMx

— The Prince and Princess of Wales (@KensingtonRoyal) April 19, 2016
Also, Prince Harry go to do what every single Star Wars fan has wanted to do since 1977.
Thank you @starwars for a fantastic day @PinewoodStudios! pic.twitter.com/cGUuFqh0qV

— The Prince and Princess of Wales (@KensingtonRoyal) April 19, 2016
And here's a big group shot, which also includes John Boyega and Daisy Ridley. Not very much hard information came out of this visit, but the photos are certainly charming.
A-WINGS CONFIRMED! pic.twitter.com/uttIBQgNVh

— Ali Arikan (@aliarikan) April 19, 2016
Actually, I may have spoken too soon! This inconspicuous shot of Prince Harry sitting in the cockpit of a Resistance ship while chatting with Mark Hamill feels like proof that A-Wings are set to return to the saga. More specifically, we're going to get to see the latest incarnation of the A-Wing, since the ship in that picture is undeniably an A-Wing while looking just different enough to showcase the passage of time. After all, the X-Wings changed in a number of subtle ways between trilogies, so the A-Wings should follow suit.
Here are a few additional angles showing off the new A-Wing:
Even the royals want #freehugs from Chewbacca when they visit the set o#starwars #episode8 pic.twitter.com/ULueWxE6TX

— Nick LaBate (@nickthebassist) April 19, 2016
This? Oh yeah, we're just standing in front of an #A-wing fighter on the set of @starwars #Episode8 pic.twitter.com/2tU5U1xcES

— Nick LaBate (@nickthebassist) April 19, 2016
Speaking of Episode 8 bringing jobs to the U.K., The Movie Bit has a new batch of photos from the Ceann Sibéal set, where construction is still underway to transform the beautiful landscape into Luke Skywalker's isolated island hideout on Ahch-To. You'll have to click that link to check out the photos (what, do you want us to get sued?), but they offer our best look yet at the ancient "beehive" huts that Monsieur Skywalker has called home for the past however-long. The footage shot at these sets will be combined with footage shot over a few days at Skellig Michael and interior sets at Pinewood Studios to create Daisy Ridley and Mark Hamill's scenes on this planet.
Brief glimpse of an #EP8 TRAILER-Mine! #UPFs can't be fooled-Only a joke-why aren't U laughing? #TKJ #CleverHamsters pic.twitter.com/RuW36hbAWj

— Mark Hamill (@MarkHamill) April 16, 2016
Last week, Mark Hamill promised a first look at an Episode 8 trailer. Then he delivered.