'Magnificent Seven' First Look: Denzel Washington And Chris Pratt Do The Cowboy Thing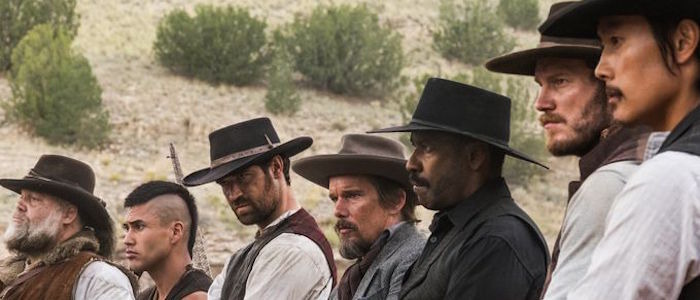 Sony has yet to release a frame of footage from The Magnificent Seven outside of this year's CinemaCon, but the first official stills from the upcoming western reveal that director Antoine Fuqua has nailed at least one vital aspect of this film already. If you must remake an iconic film staring the likes of Yul Brynner, Steve McQueen, Charles Bronson, Eli Wallach, and James Coburn, you need to make sure your line-up of movie stars and character actors can stand next to that ensemble and not look completely embarrassing.
And on that level alone, The Magnificent Seven is off to a strong start. It's not every day that you get to see a western starring Denzel Washington, Chris Pratt, Ethan Hawke, Vincent D'Onofrio, and Byung-hun Lee. That's certainly enough to grab my attention by the reins.
The first images arrived over at USA Today, which also spilled a fistful of details about the upcoming remake of the 1960 film of the same name, which was already a remake of Akira Kurosawa's masterpiece Seven Samurai. Like its predecessors, the plot is incredibly straightforward: a small town hires a team of seven tough guys, each with different skill sets, to defend them from a ruthless gang of bandits. Naturally, watching how these rogues and mercenaries and crooks and soldiers interact and bond and learn to work as a team forms the core of the story.
Washington, sporting awesome sideburns torn straight out of a '70s blaxploitation western and wielding a Colt .45 Peacemaker, is very much the lead of the film. This is his third collaboration with Fuqua, following Training Day (which won him his second Oscar) and The Equalizer (which was a box office smash). Washington is supported by the never-not-watchable Pratt, playing "charming gambler Josh Farraday," and Hawke, who plays the delightfully named Goodnight Robicheaux, a former army sharpshooter with a case of PTSD.
Lee, a superstar in South Korea who has proven himself a cinematic badass ten times over, and D'Onfrio, embracing his destiny as the Sydney Greenstreet of the new millennium, look to provide capable back-up. The rest of the seven are rounded out with Manuel Garcia-Rulfo and Martin Sensmeier, both of whom help make this one of the most diverse casts ever put front-and-center in a Hollywood western.
The Magnificent Seven is set to ride into theaters on September 23, 2016. The first trailer will arrive tomorrow, but in the meantime, you can peruse the gallery of images below.