Louis C.K. Announces The End Of 'Horace And Pete', Which Gave Him Millions Of Dollars In Debt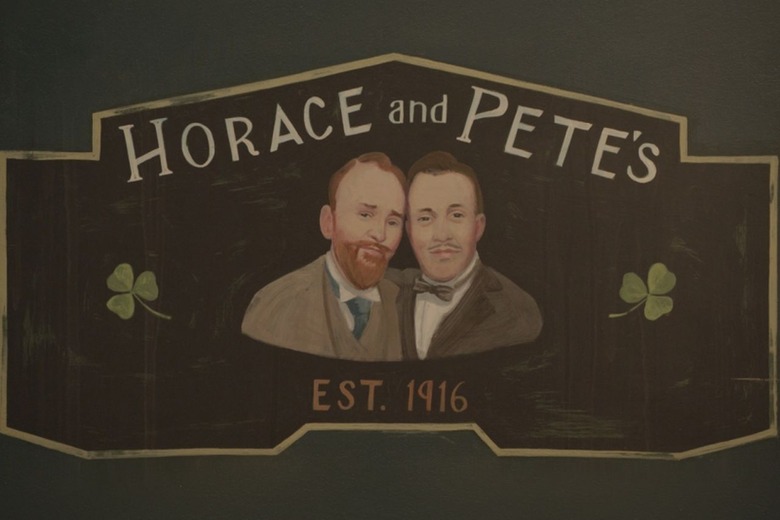 After surprising fans with a new web series called Horace and Pete earlier this year, comedian Louis C.K. has delivered 10 episodes of the series that isn't really a straight-up comedy series. The project plays out more like a stage production with an interesting blend of comedy and drama, driven by some very compelling characters written by Louis C.K. himself.
But sadly, Louis C.K. has announced that the tenth episode of Horace and Pete, which hit the we earlier this month, would be the end of the series. In an e-mail with fans, the comedian gave a fond farewell and thanks to all who worked on the project and gushed about how happy he was for his fans to receive it with open arms. Find out more about the Horace and Pete ending after the jump.
In his latest e-mail to fans who subscribe to his newsletter, Louis C.K. just came right out and said it:
"Hi. So. That was it. I didn't want to say, in the last email, that it was the last episode. Because I didn't want you to know, as you watched the episode, that it would be the last one. But yeah, obviously, That was it."
After letting everyone know that they could now buy the entire series for $31, as opposed to buying each episode individually, he thanked a bunch of the talented people who helped make it possible, from Louis C.K.'s co-star Steve Buscemi to guest stars such as Edie Falco, Alan Alda, Jessica Lange and more. And then he addressed his approach to the show, the motivation behind it, and how he's going to start promoting the hell out of it all over the place:
"I chose to do the show this way, knowing that it would be a quiet and strange experiment and that only a few of us would take part in this stage of it, that has just ended. The creating, unfolding and watching of the show, one episode at a time, from nothing. I am grateful to all of you that took this trip with me the way that you did, not knowing what you were getting, how much you were getting or how it would all feel. I was right there with you. I didn't know how any of this would go or feel.
I'm grateful to the TV critics that got out in front and wrote so thoughtfully about the show and the experience. I enjoyed reading it.   After we shot the last episode, the cast crew and I put real beer on the taps at Horace and Pete's and we had a drink and we talked.  I don't think we'll ever experience anything like that show again.  I miss all of them.So now the show is finished. It's complete. Now I'll go and tell the world about it, and ask them to come see what we made.I'm excited because I've been dying to talk about it. It was so fun and so goddam weird, what I just went through. And it continues to be so. Sorry ahead of time for how annoying it will be to see me and hear me yammering about this show and promoting it, flying in the face of the whole idea of watching a show from nothing and seeing where it goes. But I want folks to see this show.  Thank you again to those of you who watched with us as we made it. To those of you who haven't, I can tell you, now that it's done, it's a fucking good show. It really is. You can go and google it and read many terrific reviews."
Louis C.K. isn't lying either. The New York Times called the series something aking to "a Cheers spec script by Eugene O'Neill" or "a dark take on Norman Lear's sitcoms of the early '70s (if with far more profanity)." And there's plenty more praise out there for the show as well.
However, if you're a regular fan of Louis C.K.'s comedy, it's important you know that this isn't a comedy series like his show Louie, and it's nothing like his stand-up. As the comedian previously wrote on his own website, "This show is not a 'comedy'. I dunno what it is. It can be funny. And also not. Both. I believe that 'funny' works best in its natural habitat. Right in the jungle along with 'awful', 'sad', 'confusing' and 'nothing'."
It's probably best that Horace and Pete comes to an end before Louis C.K. gets even further into debt. The comedian funded the show himself, and since it cost about $500,000 to make each episode, he's about $5 million in debt. But since he's planning on finding a home for the show to exist in syndication outside of the internet, he's bound to make his money back at some point.
Go to LouisCK.net to purchase the entire run of Horace and Pete right now. Otherwise, you can read the whole letter from Louis C.K. about the end of the series over at Deadline.