'How To Build A Time Machine' Trailer: Two Guys Set Out To Build A You-Know-What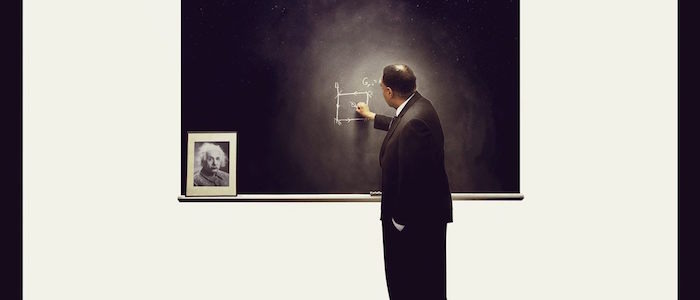 How to Build a Time Machine, the new documentary from director Jay Cheel, looks fascinating, following two men whose lives were forever changed by H.G. Wells' The Time Machine. One has spent over a decade building a replica of the time travel device from the 1960 film adaptation. The other is a theoretical physicist who read the original novel after his father's death and hopes to find a way to go back in time to save his life.
The film will make its debut at the Hot Docs film festival next month, but a new trailer and poster (from Mondo regular Phantom City Creative) have arrived, giving us a glimpse at what certainly looks like a compelling and moving film.
The trailer (which came our way via Birth Movies Death) isn't the slickest thing in the world, but it's full of fascinating moments and ideas. Although the two men at the heart of the movie are on very different quests, they are both technically building time machines and they're both motivated by the memory of their fathers. Give it a watch:
Interestingly, How to Build a Time Machine sounds nothing like the original incarnation of the film that was first announced back in 2012, when Cheel set out to tell the story of supposed real-life time traveler John Titor. Like many documentarians, it looks like Cheel found a new movie in the footage he accumulated over the years and ended up crafting something very different.
Here's the official synopsis:
How to Build a Time Machine follows two men as they set out on a journey to build their own time machines.
Rob Niosi is a stop motion animator who has spent the last thirteen years obsessively constructing a full-scale replica of the time machine prop from the 1960 motion picture adaptation of H.G. Wells' The Time Machine. It's his attempt to recapture the memory of seeing the film in theatres with his father. Dr. Ron Mallett is a theoretical physicist whose story begins with a tragedy. He was only 10 years old when his father died suddenly of a heart attack. Distraught, he sought solace in science-fiction. After reading The Time Machine, Ron dedicated his life to studying physics. He has since become a professor at the University of Connecticut and is now working on building a real time machine in the hopes that he might go back in time to save his father's life.
How to Build a Time Machine will premiere at the Hot Docs Canadian International Documentary Festival on May 2, 2016. You can check out the poster for the film below.