The Animated 'Batman: The Killing Joke' Officially Rated R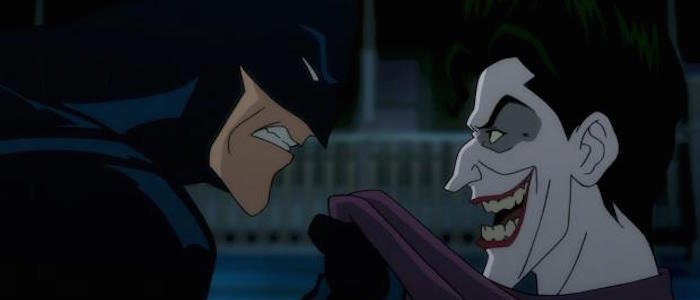 In news that manages to be surprising and entirely unsurprising all at once, Warner Bros. has revealed that their animated adaptation of the infamous comic Batman: The Killing Joke will be rated R. It's surprising because Warner Bros.' library of direct-to-DVD movies set in the DC superhero universe have traditionally been produced with younger audiences in mind. Yet, it's unsurprising because writer Alan Moore and artist Brian Bolland's 1988 one-shot is one of the grimmest Batman stories ever created and the last comic you'd want to hand off to the young superhero fan in your life.
Entertainment Weekly broke the news and they have this quote from Sam Register, the president of Warner Bros. Animation & Warner Digital Series:
From the start of production, we encouraged producer Bruce Timm and our team at Warner Bros. Animation to remain faithful to the original story — regardless of the eventual MPAA rating. The Killing Joke is revered by the fans, particularly for its blunt, often-shocking adult themes and situations. We felt it was our responsibility to present our core audience — the comics-loving community — with an animated film that authentically represented the tale they know all too well.
Despite the new rating, the movie will feature a handful of DC animation veterans lending their voices to the characters. Kevin Conroy will once again voice Batman, Mark Hamill will return as the Joker, and Tara Strong will play Barbara Gordon/Batgirl, whose brutalization at the hands of the Clown Prince of Crime sets the stage for the rest of the story. Character actor Ray Wise will make his DC debut as Commissioner Gordon, who is abducted and tormented by the Joker as part of a plot to drive him insane.
The rumors that Batman: The Killing Joke would embrace its subject matter and go for an R-rating initially broke last year. However, this will technically be the second DC superhero movie to receive the rating, following the upcoming director's cut of Batman v Superman: Dawn of Justice (although there are no plans for the live-action DC movies to embrace the R-rating in theatrical release).
While some fans will undoubtedly be pleased that Warner Bros. stuck to their guns and chose to deliver a film that stays true to its source material, it feels like some kind of line has been crossed. Not a bad line, necessarily, but some kind of line. A line worth talking about and considering. Anecdotally, I know at least one parent who has decided to not show his children any new DC movies because of their violence and dark tones. Kid-me, who grew up loving Batman, weeps. Watching DC continuously disregard younger fans to cater to adult fans makes me deeply uncomfortable, but that's just my opinion, man.
That's before you get to the story itself. The Killing Joke is a fascinating time capsule that ultimately did as much harm as it did good for Batman comics (Moore has dismissed it entirely in recent interviews). It may be a famous story, but it's not a story that demands to be told on screen. But once again, that's just my opinion, man.
Batman: The Killing Joke will premiere at the San Diego Comic-Con this summer before being released on Blu-ray, DVD and digital platforms later this year.