'Nine Lives' Trailer: Kevin Spacey Becomes A Cat And This Isn't A Disney Channel Movie?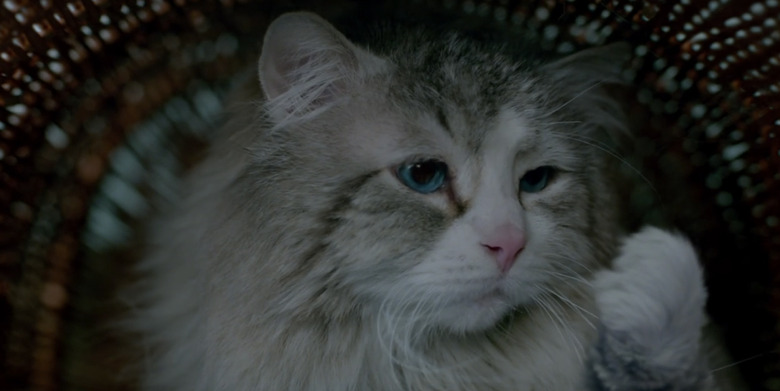 At a time when movie theaters are dominated by comic book movies, sequels, reboots and more stories with established intellectual property, having an original comedy sounds like the perfect remedy. Unfortunately, one of the original comedies coming out this year is Nine Lives, a movie about a neglectful, workaholic father (Kevin Spacey) who will learn how to reconnect with his family after he ends up being trapped in the body of a cat.
Even after the teaser trailer showed up back in January, I wasn't sure this movie was real, but the new Nine Lives trailer shows us that this movie is still coming. Is it just some cruel prank?
Here's the new Nine Lines trailer from Europa Corp:
This comes from director Barry Sonnenfeld, the man who brought us great movies like Men in Black and The Addams Family and utter garbage like RV and Wild Wild West. Now it appears he's sticking with the dumpster since this looks like a Disney Channel movie that just so happened to have some extra money to throw around for a decent cast.
Nine Lives feels like the kind of movie you see out of spite or just out of sheer curiosity, or the kind of movie that inspires a bunch of college kids to get drunk and high before they see it in theaters. It's essentially Look Who's Talking Now and The Shaggy Dog all in one, just with a cat at the center of the story instead.
There are so many weird things about this trailer, from it's overly polished, bright color palette to that strange cat shop. And what the hell is Christopher Walken doing in this movie? And is Jennifer Garner have so much trouble finding work that she has Miracles from Heaven and this movie in theaters in the same year? I guess everyone needs a paycheck.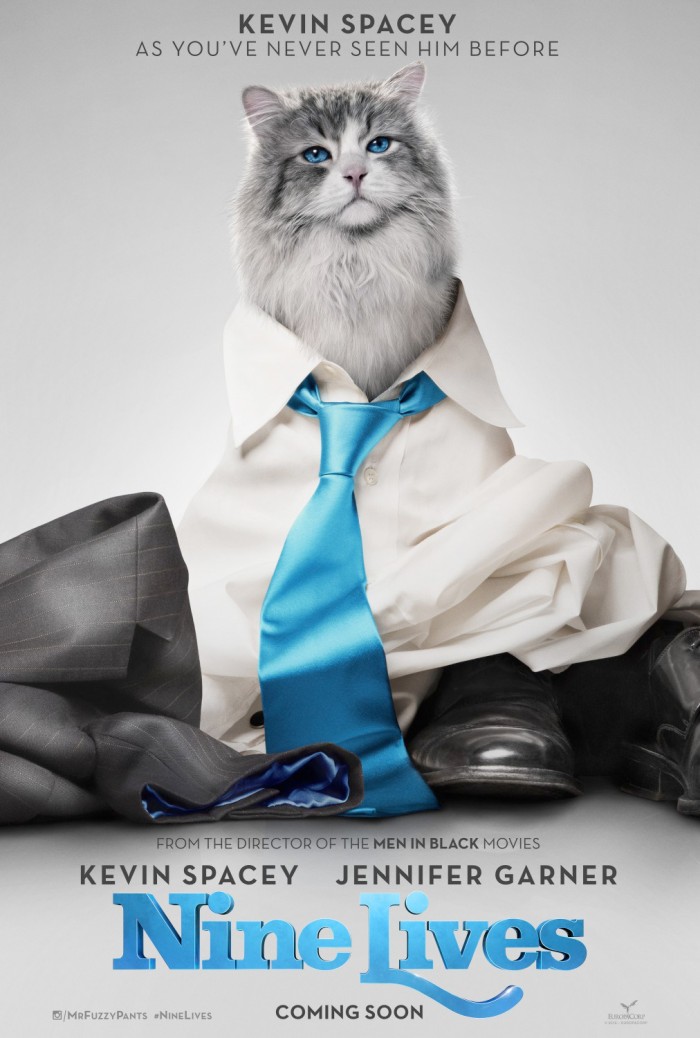 Tom Brand (Kevin Spacey) is a daredevil billionaire at the top of his game. His eponymous company FireBrand is nearing completion on its greatest achievement to date – the tallest skyscraper in the northern hemisphere. But Tom's workaholic lifestyle has disconnected him from his family, particularly his beautiful wife Lara (Jennifer Garner) and his adoring daughter Rebecca (Malina Weissman).
Rebecca's 11th birthday is here, and she wants the gift she wants every year, a cat. Tom hates cats, but he is without a gift and time is running out. His GPS directs him to a mystical pet store brimming with odd and exotic cats- where the store's eccentric owner- Felix Perkins (Christopher Walken), presents him with a majestic tomcat, named Mr. Fuzzypants.
En route to his daughter's party, Tom has a terrible accident. When he regains consciousness he discovers that somehow, he has become trapped inside the body of the cat. Adopted by his own family, he begins to experience what life is truly like for the family pet, and as a cat, Tom begins to see his family and his life through a new and unexpected perspective. Meanwhile, his family adjusts to life with an odd and stubborn cat, and his son David (Robbie Amell), steps up in ways Tom never expected.
If any hope exists of returning to his family as the husband and father they deserve, Tom will have to learn why he has been placed in this peculiar situation and the great lengths he must go to earn back his human existence.
Nine Lives arrives August 5.