'When The Bough Breaks' Trailer: Morris Chestnut Fights To Get His Baby Back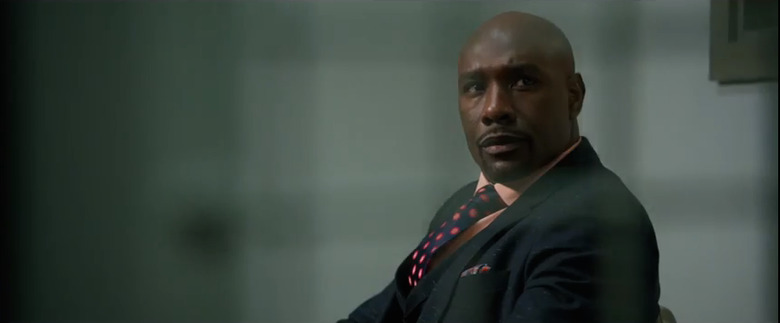 Screen Gems likes being in the Morris Chestnut business. Back in 2014, the actor signed a three-picture deal with Sony's Screen Gems. Their last picture headlined by Chestnut, The Perfect Guy, made close to $60 million at the box office, which isn't too shabby for a movie that cost $12 million. Understandably, the studio wants this collaboration to keep going. Their newest thriller, When the Bough Breaks, is both executive produced by and stars Chestnut.
Watch the When the Bough Breaks trailer below.
The trailer for Jon Cassar's film is fairly run-of-the-mill. Cassar has primarily worked in television, having directed episodes for 24, Nikita, Fringe, and more. The director's last feature film, Forsaken, was a Western starring Kiefer and Donald Sutherland. Cassar is taking on very different material with When the Bough Breaks, which has a slight The Hand That Rocks the Cradle vibe to it. Actually, scratch that, because the movie actually looks quite a bit like Curtis Hanson's darkly fun '90s thriller.
Here's the When the Bough Breaks trailer (source: EW):
The trailer is pretty much what one expects. These sorts of films tend to live up to moviegoer's expectations, whether they're high or low. By this point, you know if these thrillers were made for you or not. There's definitely an audience out there for these low-risk-high-reward Screen Gems thrillers, like The Perfect Guy, Obsessed, and even a story as unpleasant as No Good Deed. They keep perform consistently well for the studio.
Chestnut, even if a piece of material doesn't match his talents, is someone you can almost always rely on to do good work. While watching this trailer, as campy as it is at times, it's obvious Chestnut is committed to the role. He's taking it as seriously as possible. Talent aside, the actor also has a respectable commercial track record, so nobody should call When the Bough Breaks a "surprise hit" when it most likely does impressive business at the box office later this year.
Here's the official synopsis:
John and Laura Taylor (Morris Chestnut and Regina Hall) are a young, professional couple who desperately want a baby. After exhausting all other options, they finally hire Anna (Jaz Sinclair), the perfect woman to be their surrogate – but as she gets further along in her pregnancy, so too does her psychotic and dangerous fixation on the husband. The couple becomes caught up in Anna's deadly game and must fight to regain control of their future before it's too late.
When the Bough Breaks opens in theaters September 16th.