Rumor: Who Is Tessa Thompson Playing In 'Thor: Ragnarok'?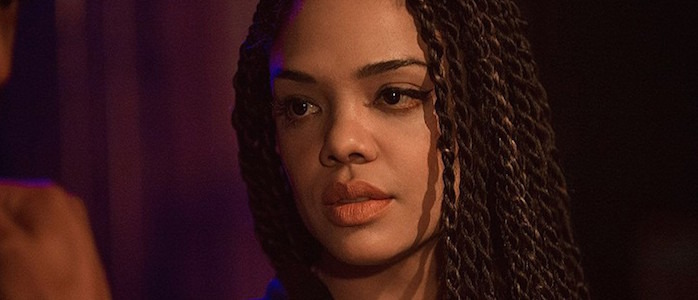 The Marvel Cinematic Universe has always had a knack for drawing wonderful actors into its increasingly intricate web and Thor: Ragnarok is no exception. Director Taika Waititi's sequel has already hit two regular MCU casting milestones: it cast a respected veteran performer in the form of Academy Award winner Cate Blanchett and then it cast an exciting up-and-comer in the form of Creed and Dear White People star Tessa Thompson.
Both of their roles have yet to be revealed, but it wasn't long before rumors began swirling about the identity of Blanchett's character. And now, like clockwork, a report concerning Thompson's role in the film has arrived.
Naturally, this should all be taken with a grain of salt, although this rumor does make sense and line up with previous reports about the film. And while this isn't necessarily a spoiler, people who want to know as little about this movie as possible should just click away. You know who you are.
Latino Review reports that Thompson will be playing Valkyrie in the film and that her role may expand to other Marvel movies. Here are the nitty-gritty details:
Our sources are telling us that Tessa Thompson is playing the MCU version of Valkyrie. In the comics, this character's real name is Brunnhilde, and she is chosen by Odin to lead the Valkyrior, the Asgardians who roam battlefields, and select the honorable dead for Valhalla. The title of Valkyrie just applies to whomever leads the Valkyries though, so we may or may not be seeing her before she takes on said title. Either way, this character aligns with the report, and could very well appear again in Avengers: Infinity War.
When Deadline reported the news of Thompson's casting, they described her role as "a kind of superhero," which isn't an inaccurate way to describe Valkyrie. After all, she has super strength and can perceive whether or not someone is going to die in the near future. She may be a mythological figure, but like Thor, she's certainly superhero enough. In any case, any movie that decides to put Tessa Thompson in armor and give her a sword and super-powers is a movie that deserves a nod of approval.
That Latino Review link also contains some pretty serious story spoilers for the film (if they're true) that explain how Valkyrie will figure into the main plot of the film. Click the link if you want to spoil yourself – it's a biggie.
In the meantime, we can prepare to start rolling our eyes at the racists who will surely have a thing or two to say about a woman of color taking on a character who has been traditionally white. Brace yourselves – awful comments from awful people are coming! Remember when Idris Elba was cast as Heimdall and Michael B. Jordan was cast as Johnny Storm? Of course you do.
Thor: Ragnarok opens on November 3, 2017.