Minions Short Film 'Mower Minions' Will Play Before 'The Secret Life Of Pets' [CinemaCon 2016]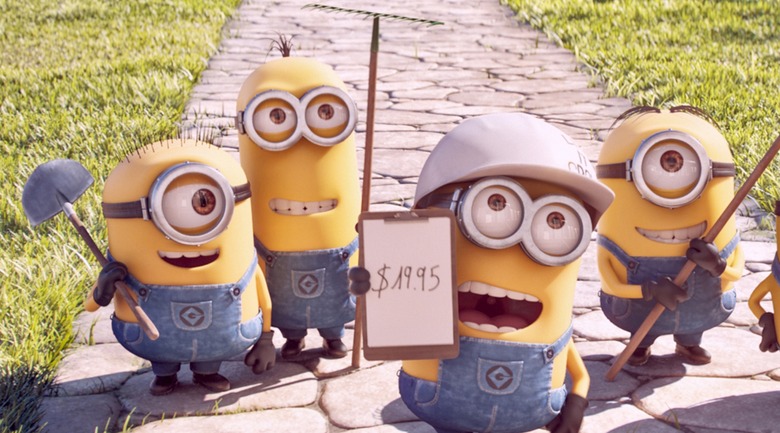 Universal Pictures and Illumination Entertainment have announced that a new Minions short film will play before their summer release The Secret Life of Pets. Learn about the short film, titled Mower Minions, and see the first image, after the jump.
The new short film titled Mower Minions was screened as a surprise as part of the Universal Pictures presentation at CinemaCon 2016 in Las Vegas. The premise involves the Minions seeing a product they want to buy during an infomercial on television. Not having the funds to buy the product, the yellow guys decide to start a lawn mowing business and of course the hijinks they get in should get some laughs from younger audiences.
I was in attendance at CinemaCon and previewed the new Minions short film. Mower Minions plays more like an old Looney Toons short film than the stuff we commonly see from Disney and Pixar. But to give you an idea of the humor, one minion steps in dog poop, which is picked up and bagged — a bag which is later accidentally used by another minion who is hyperventilating. Gross.
Here is the full first look image from Mower Minions: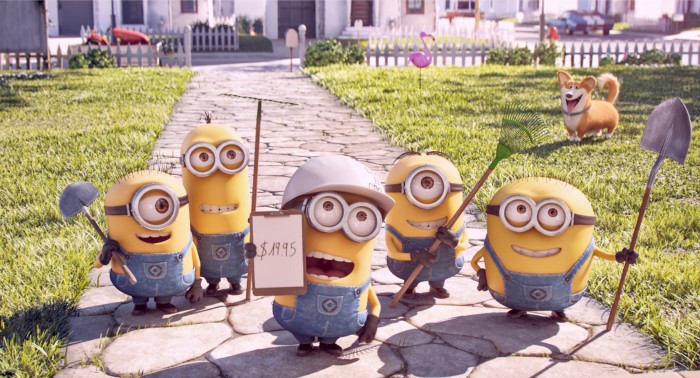 The Minions made their debut in the 2010 film Despicable Me and have since also appeared in the sequel Despicable Me 2 and their own spin-off film Minions. They also have a motion simulator ride called Despicable Me: Minion Mayhem at Universal Studios Florida and Universal Studios Hollywood. This isn't the first Minions short film to be released – it's actually the tenth one to date following Home Makeover, Orientation Day, Banana, Puppy, Panic in the Mailroom, Training Wheels, Binky Nelson Unpacified, Competition and Cro Minion.
Illumination's The Secret Life of Pets will hit theaters on July 8th, 2016.