LOL: Some Genius Replaced BB-8's Sounds With Jean-Ralphio Dialogue From 'Parks & Recreation'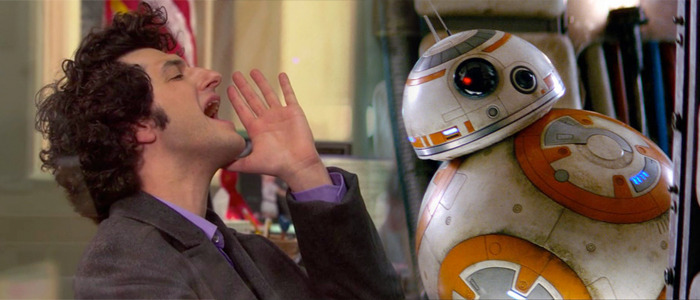 Just before Star Wars: The Force Awakens hit theaters, we learned that Bill Hader helped bring BB-8 to life by providing real dialogue for the droid that eventually was just turned into various bleeps and bloops that the little ball droid made. Hader was credited as a vocal consultant along with Parks and Recreation's Ben Schwartz, who opened up about the process with a little more details in a Reddit AMA video back in February. And with that knowledge, one fan decided to have some fun with footage of BB-8 from The Force Awakens.
For those who may not know, Ben Schwartz played a hilarious character on Parks and Recreation named Jean-Ralphio. And friend of the site Jesse Carp has taken some of his dialogue and given it to BB-8 in the scene when Rey saves the droid from being turned into scarps by the scavenger Teedo. Believe it or not, it makes BB-8 even better.
Here are a few snippets of Jean-Ralphio as BB-8 in Star Wars: The Force Awakens (via The AV Club):
Rey Meets Jean-Ralph-E0... 1/4 pic.twitter.com/6R7S7GMcZu

— Jesse Crap (@jessecarp) April 12, 2016
Rey Meets Jean-Ralph-E0... 2/4 pic.twitter.com/dZpLBclUGO

— Jesse Crap (@jessecarp) April 12, 2016
Rey Meets Jean-Ralph-E0... 3/4 pic.twitter.com/9krrPFZTCt

— Jesse Crap (@jessecarp) April 12, 2016
Rey Meets Jean-Ralph-E0... 4/4 pic.twitter.com/UNAkoD8TqH

— Jesse Crap (@jessecarp) April 12, 2016
This isn't the first time someone had the idea of putting Jean-Ralphio dialogue to footage from The Force Awakens as there was a funny little clip going around back in January. However, now that the film is out on home video, people have tons more footage at their disposal to make even better scenes.
I can't tell you how hard I laughed when I heard the "Technically I'm homeless" line in the second clip, but the fourth clip has even more dialogue to give you a good chuckle. However, the implications of BB-8 hooking up with Rey are a little disturbing.
Now if somebody could take some of Bill Hader's characters from Saturday Night Live and apply them to BB-8, that would be great. I'm sure there has to be some great Stefon moments that would fit multiple scenes perfectly, especially in Maz Kanata's cantina.
Jesse Carp loves movies and has a pretty amusing Twitter feed, and you can follow him right here.