'The Nice Guys' TV Spot: The Nice Guys Detective Agency Is Here To Help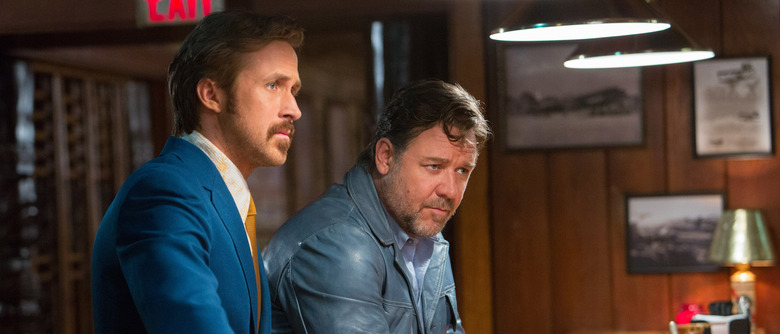 The Nice Guys should make for a nice breath of fresh air this summer. While there are plenty of huge tentpole movies coming out over the next few months, writer-director Shane Black is offering up something a little different, and hopefully that'll be enough to convince audiences to see Ryan Gosling and Russell Crowe unite in this buddy detective picture.
Below, watch the latest The Nice Guys TV spot, which tries to sell you on the Nice Guys Detective Agency.
Black started working on the script around 13 years ago. After years of trying to get the film made, the project finally fell into place when producer Joel Silver suggested one last push, and that push led to landing Gosling and Crowe within days. The long wait for Black seems to have paid off, because he ended up casting two actors that are clearly having a ball with these roles. If Gosling and Crowe's chemistry is as exciting as it looks in the trailers, then we're in for a rare, R-rated, 1970s-set treat.
Here's The Nice Guys TV spot.
I'm sure some of you are going to call that number out of curiosity. I know I already did. It's a voice answering machine, with Jackson Healy (Crowe) and Holland March (Gosling) bickering. After that fun little piece of banter, the Nice Guys' secretary, "Cheryl," asks for permission for Warner Bros. to use your voicemail in advertisements and promotions. They will either distribute all of the message, part of it, or none of it.
While Black's directorial debut, Kiss Kiss Bang Bang, underperformed for Warner Bros., The Nice Guys should fare far better at the box office. "From the director of Iron Man 3" and two notable stars should help, but more than that, there are probably no other movies like The Nice Guys coming out this summer. We're going to see plenty of explosions and hero's journeys over the next few months, but how many times are we going to see Ryan Gosling and Russell Crowe delivering Shane Black's delightful dialogue? Only once, which is why, for me, The Nice Guys is this summer's event film.
Here's the official synopsis for The Nice Guys:
Set in 1970s Los Angeles, down-on-his-luck private eye Holland March (Ryan Gosling) and hired enforcer Jackson Healy (Russell Crowe) must work together to solve the case of a missing girl and the seemingly unrelated death of a porn star. During their investigation, they uncover a shocking conspiracy that reaches up to the highest circles of power.
The Nice Guys opens in theaters May 20th.