Exclusive 'Green Room' Clip: "Get Ready To Run"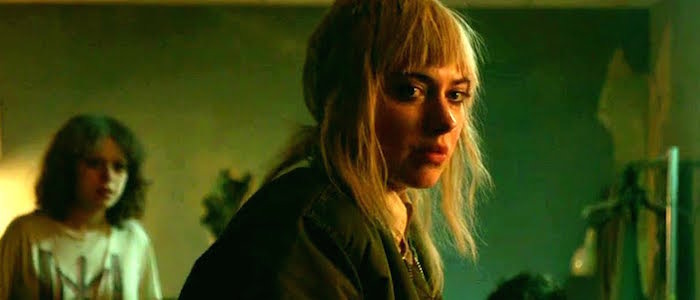 I first saw Green Room a few months ago and I haven't stopped thinking about it since. Writer/director Jeremy Saulnier's nasty, brutal thriller has wedged itself into my brain in a big way – it's the kind of movie that's so intense that it makes most hard-edged genre movies look downright friendly and agreeable. This is take-no-prisoners filmmaking at its finest.
So we're pleased to debut a new clip from Green Room, which should give you a little taste of what to expect from the final film.
This clip is extremely brief, but it contains a number of elements that just plain sing in the actual movie. The moment comes relatively deep into the plot, but it's not really something that can be spoiled. All you need to know is that a young punk band has locked themselves in backwoods musical venue's green room after they witness a murder...and that the gang of Nazi skinheads that own the venue don't want them to leave with their lives. So this group, armed only with makeshift weapons and the desire to not die horribly, tries to make a run for it.
Although Patrick Stewart's neo-Nazi leader has been grabbing all of the headlines, this clip showcases one of the film's real secret weapons: Imogen Poots, who plays a skinhead sympathizer who finds herself thrust into the same corner as the completely in-over-their-heads punk rockers. She has terrific back-up in Anton Yelchin, Alia Shawkat, and Mark Webber, but this is going to be the movie that makes a lot of people take notice of Poots.
Here's the full official synopsis for Green Room:
GREEN ROOM is a brilliantly crafted and wickedly fun horror-thriller starring Patrick Stewart as a diabolical club owner who squares off against an unsuspecting but resilient young punk band. Down on their luck punk rockers The Ain't Rights are finishing up a long and unsuccessful tour, and are about to call it quits when they get an unexpected booking at an isolated, run-down club deep in the backwoods of Oregon. What seems merely to be a third-rate gig escalates into something much more sinister when they witness an act of violence backstage that they weren't meant to see.  Now trapped backstage, they must face off against the club's depraved owner, Darcy Banker (Stewart), a man who will do anything to protect the secrets of his nefarious enterprise.  But while Darcy and his henchmen think the band will be easy to get rid of, The Ain't Rights prove themselves much more cunning and capable than anyone expected, turning the tables on their unsuspecting captors and setting the stage for the ultimate life-or-death showdown. Intense, emotional, and ingeniously twisted, Green Room is genre filmmaking at its best and most original. Saulnier continues to build his reputation as one of the most exciting and distinctive directors working today, with a movie that's completely different from his previous, highly acclaimed Blue Ruin, but which is just as risk-taking and even more full of twists. The entire cast deliver first-rate performances, but Patrick Stewart gives a transformative and brilliantly  devious turn as Darcy-elegant yet lethal, droll yet terrifying, Stewart makes the film simply unforgettable.
Green Room opens in limited release in New York and Los Angeles on April 15, 2016. It will expand to additional cities on April 22 before going wide on April 29. Don't miss this one...and see it with a crowd.