POTD: Mark Hamill Won't Get Off Daisy Ridley's Back In 'Star Wars: Episode VIII' Set Photo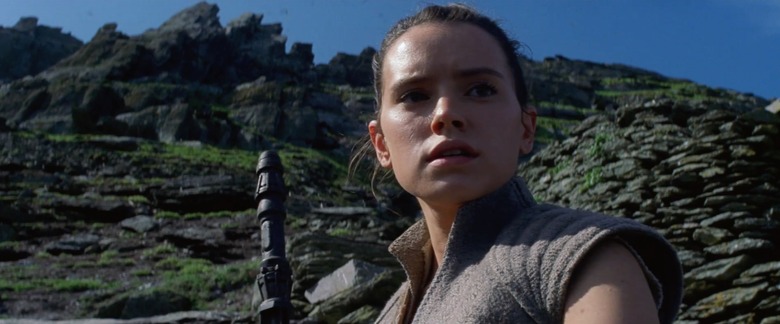 With the exception of some sneaky spy photos from a few different shooting locations for Star Wars: Episode VIII, we haven't seen much from the sequel so far. An announcement of production showed off the return to Skellig Michael with Rey (Daisy Ridley) attempting to hand off the lightsaber MacGuffin from Star Wars: The Force Awakens to Luke Skywalker (Mark Hamill), but we don't know what's going to happen when we return to that moment right at the beginning of Episode VIII.
Now a new photo from Pinewood Studios has been revealed by Mark Hamill himself, in honor of Daisy Ridley's birthday. Sadly, it doesn't show us anything from the actual set, but it does recreate a very familiar pairing from The Empire Strikes Back, one that Luke Skywalker is all too familiar with on a little planet called Dagobah. See the Star Wars Episode VIII photo from the set below.
Mark Hamill really hyped up the unveiling of this picture on Twitter:
PREPARE YOURSELF!-This Sunday @ 8PM For Daisy Ridley's Birthday-An #EP8EXCLUSIVE Guaranteed to BLOW- YOUR- MIND!!! #NoJoke #NoTrick #NoPrank

— Mark Hamill (@MarkHamill) April 8, 2016
R U Ready?ONE Hour! SHOCKING SUPER-SECRET #SWEP8 REHEARSAL REVEAL-NOT April Fool's Joke!-You can #trustmethistime #Listen2Luke #MarkDelivers

— Mark Hamill (@MarkHamill) April 10, 2016
Some fans were probably hoping for some kind of title reveal or maybe a new look at the characters on the set, but instead, we got a magical photo featuring Mark Hamill riding the back of Daisy Ridley on the lot. And just to make sure you know what they're trying to emulate, we've put a more familiar image right next to it:
Fans are already having some fun with the image, and Mark Hamill has retweeted these gems:
.@hamillhimself @pinewoodstudios It's Jedis all the way down. pic.twitter.com/q6gq7iPB4Y
— Max Pinton (@maxpinton) April 11, 2016
Rey carries Luke Skywalker to Dagobah to complete her training ???????????????? #starwars #markhamill #daisyridley A photo posted by Star Wars Archive™ (@starwarsarchive) on
@HamillHimself Someone on the internet fixed it for you pic.twitter.com/fMViRrFhiI
— Tom Pritchard (@tepritchard) April 11, 2016
The question is whether or not this image offers any hint as to what will happen in Star Wars: Episode VIII. Does this mean Luke Skywalker will become Rey's own Yoda, helping her to learn the ways of The Force? That's what many fans are expecting, but there's also a chance that he could be a little reluctant to get back into the fray of the light versus the dark side. After all, he's been in hiding this whole time for some reason. Hopefully we'll find out more about what he's been up to in Episode VIII.
Even if there end up being similarities between the relationships Luke & Rey and Yoda & Luke have, this photo just seems to be a little fun behind the scenes. Though it does seem like director Rian Johnson is being slightly more transparent with the film that J.J. Abrams was with The Force Awakens. He recently posted a picture from the motion-capture stage with Lupita Nyong'o reprising her role as the mysterious cantina owner Maz Kanata, but we haven't seen any official pictures of new characters or sets, or even old characters and sets.