New 'Suicide Squad' Trailer: Don't Forget, They're The Bad Guys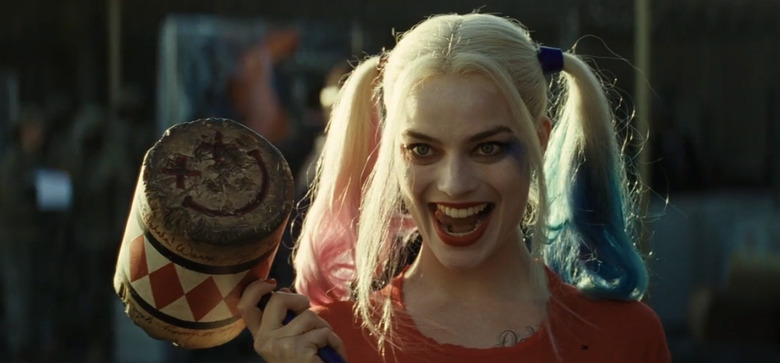 Along with the new clip from Captain America: Civil War, the shenanigans at the MTV Movie Awards delivered a new full-length trailer for Suicide Squad. It looks like the polar opposite of Batman v Superman: Dawn of Justice, powered by some great rock music (including "Ballroom Blitz") and a lot of cool action. Plus, for anyone who has been anxious for more of Margot Robbie, all the footage of Harley Quinn indicates that she just might end up being the best part of this movie.
Watch the new Suicide Squad trailer after the jump.
Here's the new Suicide Squad trailer originally from MTV:
There's a lot to absorb in this trailer, including the inception of the titular team after Black Mass star David Harbour says, "What if Superman had decided to fly down, rip off the roof of the White House, and grab the president right out of the oval office. Who would have stopped him?" That's when Viola Davis chimes in to build a team of "some very bad people who I think can do some good."
One thing's is for sure, Rick Flagg (Joel Kinnaman) is going to have his hands full keeping this team of bad guys in check, even with his stern threats. How are you going to keep a gang composed of Will Smith as Deadshot, a master assassin who never misses; Margot Robbie as Harley Quinn, the adorably insane admirer of the Joker; Adewale Akinnuoye-Agbaje as the grotesque Killer Croc, one of Batman's coolest villains; Jai Courtney as Captain Boomerang, who enjoys a good beer and has an Australian accent; and of course, Jared Leto as a new version of The Joker, full of tattoos, bling and cruising around in an Lamborghini.
There's tons of footage to absorb here, including some new shots of Ben Affleck as Batman that are rather intriguing. MTV notes that the sequence with Batman is supposed to involve "some sort of kinetic flashback sequence." Since one shot seems to have him carrying an unconscious Harley Quinn (or rather Dr. Harleen Frances Quinzel), it might have something to do with her origin story with The Joker.
Anyway, we'll likely dive deeper into this footage soon. But for now, some reshoots are underway in Los Angeles, and we've got a few months to wait before we venture back into the DC Comics expanded universe on the big screen.
Suicide Squad arrives on August 5.