'Captain America: Civil War' Clip: Cap, Falcon & Scarlet Witch Make A Great Team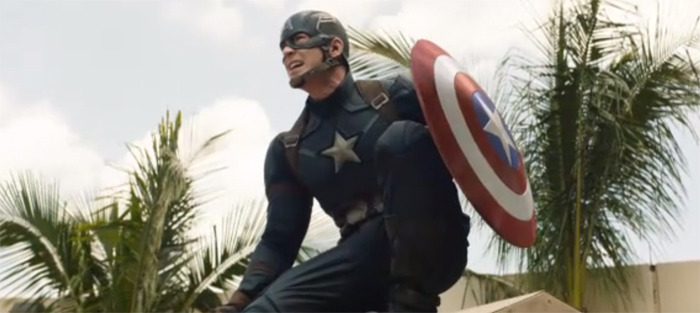 After some early buzz this weekend indicated that Captain America: Civil War seems to deliver the goods when it comes to an enjoyable and outstanding comic book blockbuster, Marvel Studios is keeping the hype train going with a new clip from the movie.
Pushing the comic book sequel to the coveted young demographic watching the MTV Movie Awards, the Captain America Civil War clip features Captain America (Steve Rogers) and two of his new Avengers, Falcon (Anthony Mackie) and Scarlet Witch (Elizabeth Olsen), infiltrating some kind of facility. The trio seems to make a great team, cooperating and using each others abilities to their advantage.
Watch the Captain America Civil War clip after the jump.
Here's the new clip from the Marvel movie from MTV:
In the clip, it seems Scarlet Witch has really learned to control her powers and even use them in new ways, deflecting bullets and helping Captain America get a little more air in his jump. Plus, Falcon has some new tricks as well, using his wings to deflect even more bullets and also scanning for threats in the building, not unlike how he did in Ant-Man.
While we're not entirely sure what the team is doing in this clip besides beating up some faceless bad guys, they work pretty well as a team. It seems to me that they might be on their way to face off with Crossbones, but I can't be sure.
There's a whole gang of superheroes in this one with the cast composed of Chris Evans, Robert Downey Jr., Scarlett Johansson, Sebastian Stan, Anthony Mackie, Don Cheadle, Jeremy Renner, Chadwick Boseman, Paul Bettany, Elizabeth Olsen, Paul Rudd, Emily VanCamp, Frank Grillo and Martin Freeman, with William Hurt and Daniel Brühl. Will anyone else show up? We'll have to wait and see.
Marvel's "Captain America: Civil War" finds Steve Rogers leading the newly formed team of Avengers in their continued efforts to safeguard humanity. But after another incident involving the Avengers results in collateral damage, political pressure mounts to install a system of accountability, headed by a governing body to oversee and direct the team. The new status quo fractures the Avengers, resulting in twocamps—one led by Steve Rogers and his desire for the Avengers to remain free to defend humanity without government interference, and the other following Tony Stark's surprising decision to support government oversight and accountability.
Captain America: Civil War opens on May 6.