'Sing Street' TV Spot & Music Video: You're Going To Adore This Movie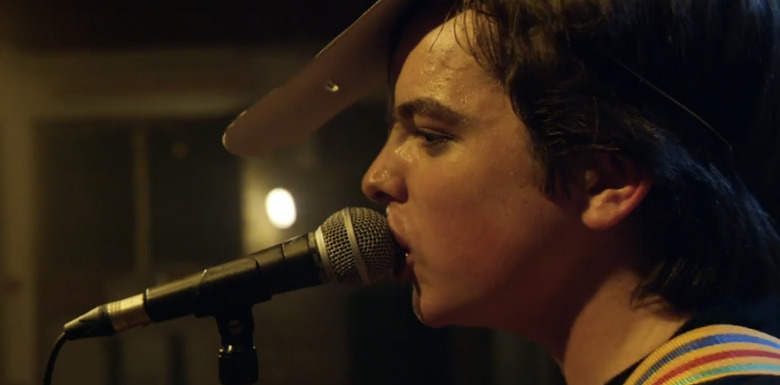 With spring here and summer on the way, we're starting to see some of the movies that hit the 2016 Sundance Film Festival make their way to theaters. If the suspense and blood in Jeremy Saulnier's thriller Green Room isn't your kind of thing, then you'll probably want to take in something a little more lighthearted and fun. That would be Sing Street, a wonderful coming-of-age comedy set in Ireland back in the 1980s. And since it's a movie from Once and Begin Again director John Carney, it's full of some amazing original music.
The Weinstein Company doesn't seem to be doing a great job of making audiences aware of its limited release next week. But we're trying to change that by calling your attention to a new Sing Street TV spot, complete with a quote from our Sundance review. Plus, there's a new music video highlighting an original song from Begin Again star and Maroon 5 frontman Adam Levine. Check out both of the videos below.
Here's the new Sing Street TV spot with a quote from our Sundance review:
You can check out our full review of the film right here. While calling this a "feel-good movie" may sound like a complete cliché, it really is quite the uplifting, fun flick that the whole family can enjoy. And again, I can't stress enough how outstanding the soundtrack is, especially if you loved '80s pop rock from The Cure, Duran Duran and more.
Speaking of the soundtrack, here's that Sing Street music video for Adam Levine's original song "Go Now":
The music video itself is the kind of clichéd film tie-in that They Came Together expertly made fun of a couple years ago. It cuts back and forth from black and white footage of Adam Levine recording the song to footage from the movie. But the song is still a good one, at least in my opinion.
If you're not a fan of Adam Levine, don't worry. This song is not representative of the original music created by the band at the center of the movie. The original songs from the titular band fit in perfectly with the decade, and they give the film such incredible energy. My personal favorite track from the Irish misfit band is "Drive It Like You Stole It," which has a sequence in the film that will genuinely make you want to clap in the theater. Listen to it right here:
If you want to check out the whole soundtrack, it's available on iTunes right now. Otherwise, Sing Street hits select theaters next week on April 15. If it's not playing near you next weekend, just keep your ear to the ground to find out which theaters it will expand to in the coming weeks. You seriously must seek this one out.
For a better look at the film, check out the full trailer right here.