'Tale Of Tales' Trailer: In Which Salma Hayek Eats A Sea Monster's Heart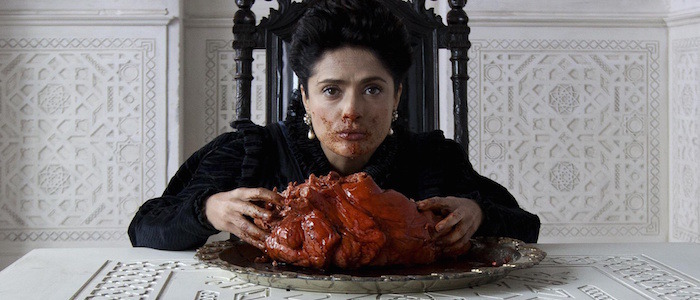 You really don't know what you're getting when you settle in for a new Matteo Garrone film. The Italian director has been making feature films for twenty years, but he achieved international renown for his stunning and brutal crime film Gomorrah in 2008. He then shifted gears in a major way for Reality, a comic drama about an ordinary man whose life is thrown into chaos after he's cast on a reality show. Garrone's latest film is another big left turn: a fantasy anthology based one of the world's most influential fairy tale collections.
The Tale of Tales trailer is filled with stunning shots and oddball moments and it certainly looks like a must-see for fans of offbeat cinema. But most importantly, it features a scene where Salma Hayek eats the heart of a sea monster.
Based on stories compiled in Giambattista Basile's Pentamerone, a fairy tale collection that was initially published in 1634, Tale of Tales is actually three completely separate stories linked by a framing device. Each story is very much a traditional fairy tale, free of Disney-ificaion. The results are dark, weird, whimsical, and often grotesque. However, if you know nothing about what this film actually is, the trailer is kind of baffling.
Tale of Tales received a mixed reaction at the Cannes Film Festival last year, but I talked to more than a few people who enjoyed it at Fantastic Fest, where genuinely strange films like this tend to find passionate fans. Since the trailer doesn't do a particularly good job of explaining exactly what this movie is all about, here's the official description from Fantastic Fest, which breaks down the three stories that are told during the course of the film:
We begin in the kingdom of Longtrellis, with a queen longing for a child of her own. When a mysterious figure arrives with a way for her to become pregnant, she immediately fulfills the requirements despite warnings of grave consequences. True to his word, she becomes pregnant and gives birth to a son. But another young woman involved in the ritual become pregnant as well and the two boys become inseparable friends, much to the queen's dismay. Her desire to keep them apart will have a dire impact on all of their lives.
Not far away in the kingdom of Strongcliff, the king is busy bedding as many of his female subjects as humanly possible, sometimes two at a time. Stumbling through the castle one morning, still shaking off the cobwebs of the previous night's adventures, he hears a beautiful voice singing in the bright sun. Drawn to the siren song, he calls to her but she flees back into her home. Never one to back down from a challenge, he knocks at her door later that evening. But she's devised a surprise for the unsuspecting king...
And finally, in the kingdom of Highhills, the king spends most of his time obsessed with a rather odd pet. Meanwhile his daughter, Princess Violet, grows restless to marry, but the king is not yet ready to part with her. His pet's untimely death inspires the king to concoct a bizarre tournament for the hand of his daughter. Assuming his challenge to be unsolvable, the king feels smug as suitor after suitor is turned away. But one lowly citizen may have the specific skills to foil the king's clever plan.
Tale of Tales opened in France last year and is current set for a July 1, 2016 release date in the United Kingdom. The inevitable stateside release, whether it be in theaters or on VOD, hasn't been announced. in addition to Hayek, the film also stars John C. Reilly, Toby Jones, and Vincent Cassel.