'Game Of Thrones' Season 6 Premiere Title, Synopsis And Clip Revealed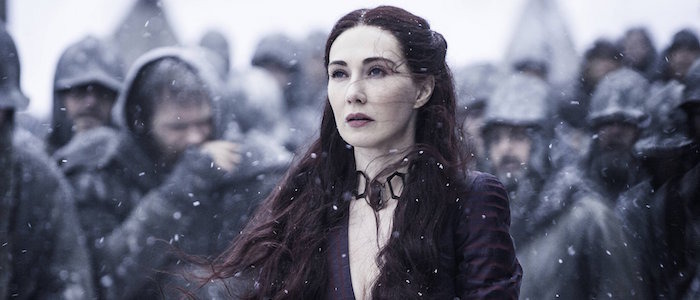 The premiere of Game of Thrones season 6 is only a few weeks away, so the trick now is making sure we don't get hit by a car or plummet from the roof of a skyscraper or accidentally drink a liter of Drano. As the show has taught us, the Many-Faced God eventually comes for us all, but hopefully he'll wait until after this season is over to shuffle us off this mortal coil. I expect this season to prove lots of long-gestating theories. Don't take that from me, Death. Seriously. Cool your jets.
While you dodge death at every turn, you can take some pleasure in a new clip from the first episode of the new season, for which HBO also revealed a title and a cheeky synopsis.
Official HBO episode descriptions have always been intentionally vague, but the synopsis for the season opener six, titled "The Red Woman," is the new champion. Look at this thing:
Jon Snow is dead. Daenerys meets a strong man. Cersei sees her daughter again.
On the subject of Jon Snow being dead – the network doth protest too much, methinks. C'mon. We all know he's dead, but we also know that he's not dead. He'll be back. After all, the title of the episode refers to Carice van Houten's Melisandre, a priestess of R'hllor, a deity whose powers have brought dead characters back to life before. Kit Harrington's hair remains uncut. Jon Snow lives. In some capacity.
The other two sentences in this synopsis are equally worth examining. Daenerys meeting a strong man seemingly refers to her new captor, a Dothraki Khal who commands many of the same men who once united under her dead husband, Khal Drogo. As for Cersei seeing her daughter again...well, that's not untrue, but since her daughter ended season five poisoned to death, it will not be a happy reunion. Season six will be a big one for the the Queen Mother, who has to deal with a dead daughter and a trial brought on by powerful religious zealots, to say nothing of her science experiment of a new bodyguard.
Meanwhile, actor Liam Cunningham (who plays Ser Davos Seaworth on the series) stopped by Conan to talk about the new season and brought an intriguing new clip with him:
The clip is the extended version of a moment we already saw (and picked apart) in the trailer and even with a little more context, it doesn't make complete sense. Yet. All we know is that the Night's Watch mutineers want Jon Snow's dead body and Davos and a few loyal members of the Watch aren't going to let it go without a fight. But where is Melisandre during this scene? Hmm. Hmm, I say!
Game of Thrones season 6 premieres on April 24, 2016. "The Red Woman" is written by David Benioff & D. B. Weiss and directed by Jeremy Podeswa.