New 'X-Men: Apocalypse' Posters Let You Gaze Lovingly Into The Eyes Of The Mutant Menace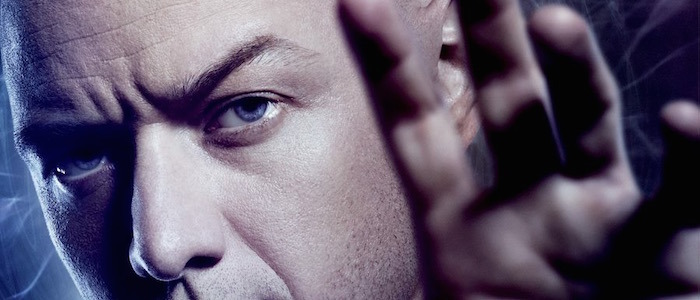 Now that Batman v Superman has come and gone, X-Men: Apocalypse is going to spend the next two months leading up to its release doing everything in its power to grab and keep your attention. That means new trailers (and trailer breakdowns), featurettes, photos, and even hell freezing over. Seriously, the marketing for this movie is going to a blitz. You're going to see James McAvoy's freshly shaven scalp everywhere you go.
A new batch of ten character posters advertising the film have arrived, offering close-ups on the film's main characters. And yes, everyone is looking straight into your puny, human soul.
Director Bryan Singer's latest entry in the increasingly convoluted (but generally pretty fun) X-Men series is a direct sequel to X-Men: Days of Future Past and X-Men: First Class. It's being sold as the final chapter in a trilogy and the grand finale for all of the X-Men movies so far, although we have no idea what that actually means. Fox has played so fast and loose with X-Men movie continuity that we don't know what's going on with anyone anymore. It's only a conclusion until the next film. After all, there's at least one more Wolverine movie coming and maybe, if the fates will it, that Gambit movie. In the meantime, we get to watch the X-Men world come to an end. For now. It's in the title, after all.
But let's take a look at these posters. From left to right, there's James McAvoy as Professor X, Jennifer Lawrence as Mystique, Nicholas Hoult as Beast, Tye Sheridan as Cyclops, Kodi Smit-McPhee as Nightcrawler, Sophie Turner as Jean Grey, Evan Peters as Quicksilver, Oliva Munn as Psylocke, Michael Fassbender as Magneto, and Alexandra Shipp as Storm. Not receiving their own character posters (yet): Rose Byrne's Moira MacTaggert, Lucas Till's Havok, Ben Hardy's Angel, Lana Condor's Jubilee, and strangely enough, Oscar Isaac's Apocalypse.
Here's the official synopsis for the film:
Since the dawn of civilization, he was worshiped as a god. Apocalypse, the first and most powerful mutant from Marvel's X-Men universe, amassed the powers of many other mutants, becoming immortal and invincible. Upon awakening after thousands of years, he is disillusioned with the world as he finds it and recruits a team of powerful mutants, including a disheartened Magneto (Michael Fassbender), to cleanse mankind and create a new world order, over which he will reign. As the fate of the Earth hangs in the balance, Raven (Jennifer Lawrence) with the help of Professor X (James McAvoy) must lead a team of young X-Men to stop their greatest nemesis and save mankind from complete destruction.
X-Men: Apocalypse opens on May 27, 2016. You can peruse all of the new posters in the gallery below.