'Neighbors 2: Sorority Rising' Red Band Trailer: Can Zac Efron Distract A Whole Sorority By Dancing?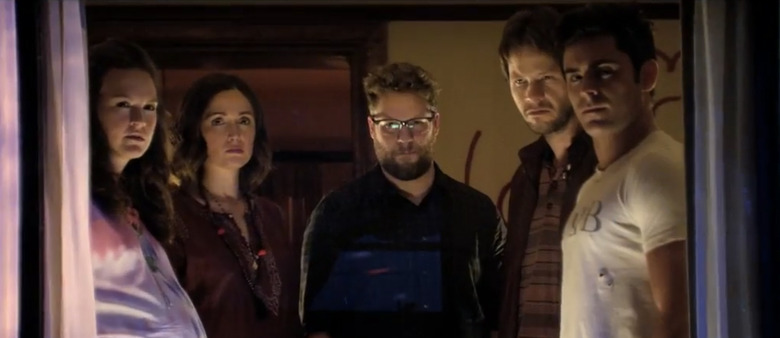 Next month brings an epic battle in the form of Captain America: Civil War, but a few weeks later, an even crazier face-off will take place, and it's going to have a lot more dildos. Neighbors 2: Sorority Rising has Seth Rogen and Rose Byrne facing yet another college nightmare, as a wild sorority moves in next door just when they are about to finalize a deal on selling their house.
Of course, they call in Zac Efron to try to take them down, but he just might not be enough. That's when they decide to call in some more parents to see if they can wrangle in their kids. One of those parents just happens to be LL Cool J, and he finds a few things that belong to his daughter that he would have been better off not knowing about. See what I mean in the new Neighbors 2 red band trailer, which is obviously NSFW.
Here's the new Neighbors 2 red band trailer from Comedy Central:
While I think this comedy sequel certainly looks funny, it does seem to get slightly more outlandish this time around, especially with bringing back the airbag gag in a different way at the end of the trailer. But the sorority angle does seem to offer some new opportunities for raunchy humor and gags that should be comically satisfying.
We just learned that Lena Dunham filmed a cameo for the movie, but it ended up getting cut out from the theatrical version of the movie. But I'm betting there's still some fun cameos in store. After all, I'm pretty sure we had no idea that LL Cool J was in the movie until now. So surely director Nicholas Stoller has some other surprises up his sleeve.
If you want to see more from Neighbors 2, watch the first trailers right here.
Now that Mac (Seth Rogen) and Kelly Radner (Rose Byrne) have a second baby on the way, they are ready to make the final move into adulthood: the suburbs. But just as they thought they'd reclaimed the neighborhood and were safe to sell, they learn that the new occupants next door are a sorority even more out of control than Teddy (Zac Efron) and his brothers ever dreamed of being.
Tired of their school's sexist, restrictive system, the unorthodox ladies of Kappa Nu have decided to start a house where they can do whatever the hell they want. When Shelby (Chloe Grace Moretz) and her sisters, Beth (Kiersey Clemons) and Nora (Beanie Feldstein), find the perfect place just off campus, they won't let the fact that it's located on a quiet street stand in their way of parties as epic as the guys throw.
Forced to turn to the one ex-neighbor with the skills to bring down the new Greeks next door, the Radners — alongside best friends Jimmy (Ike Barinholtz) and Paula (Carla Gallo) — bring in charismatic Teddy as their secret weapon. If he can infiltrate the sorority and charm his way through it, the thirtysomethings will shutter the Kappas' home. But if they think that their neighbors are going down without a fight, they have severely underestimated the power of youthful ingenuity and straight-up crazy.
Neighbors 2: Sorority Rising arrives on May 20.