'Doctor Strange' Trailer Arrives Next Week As Marvel's Stars Take Over Jimmy Kimmel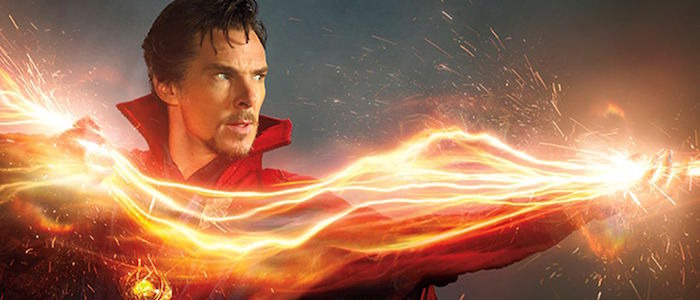 This week has brought some goodies from Marvel's fall release of Doctor Strange with Benedict Cumberbatch stopping by a comic book shop in full wardrobe after production on the movie wrapped. Plus, a new official photo just arrived online today as well. But next week is when we're really going to get a taste of the Sorcerer Supreme.
Jimmy Kimmel Live will be taken over by Marvel Studios next week with the stars of Captain America: Civil War stopping by throughout the week. But there's one day when fans will really want to pay attention, because that's when Benedict Cumberbatch will be stopping by to unveil the first Doctor Strange trailer.
The exact Doctor Strange trailer release date will be Tuesday, April 12th on Jimmy Kimmel Live, and Benedict Cumberbatch himself will be stopping by the show to help debut the first footage from the November 4 release. The show has become the go-to premiere spot for Marvel's trailers lately, with the Civil War cast stopping by last November to release the first trailer for the Captain America sequel.
Speaking of the Captain America: Civil War cast, they'll be stopping by Jimmy Kimmel Live on different nights, separated by Team Captain America and Team Iron Man. Monday, April 11th will bring Chris Evans (Captain America), Sebastian Stan (Winter Soldier), Anthony Mackie (Falcon) and Paul Rudd (Ant-Man) to the show while April 13th will have Robert Downey Jr. (Iron Man), Don Cheadle (War Machine), Emily VanCamp (Agent 13), Chadwick Boseman (Black Panther) and Paul Bettany (Vision).
What's interesting is that we've seen concept art with Emily VanCamp on Team Captain America, but she's appearing with Team Iron Man. Does she start on one side and flip to the other? I wouldn't be surprised if some of the heroes switch sides before the Civil War is over, but we'll have to wait to find out in a month.
Finally, Thursday, April 14th will have Chris Hemsworth stopping by Jimmy Kimmel Live, even though he's not supposed to be in Captain America: Civil War, and his sequel, Thor: Ragnarok, isn't due in theaters until November of 2017. Maybe he'll have some kind of first look at the movie or a casting announcement for the sequel? Oh, and Clark Gregg will appear on Tuesday with Benedicth Cumberbatch for all you Agents of SHIELD fans out there.
There's a bunch of Marvel news coming in our future, and with Captain America: Civil War on the horizon, there's bound to be plenty more revelations about the Marvel cinematic universe. Stay tuned, and we'll keep you updated.