Episode 8 Bits: A New Female Lead, Notes On A "Casino" Scene, And The Return Of A Jedi Master?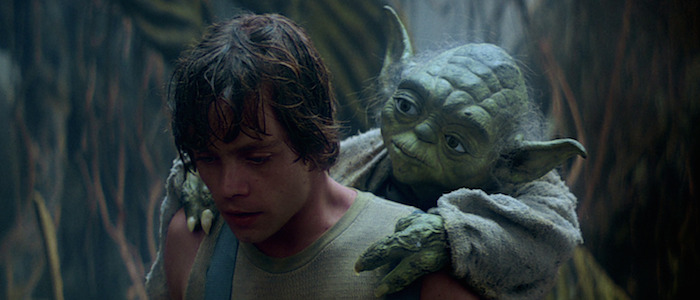 While that new Rogue One trailer grabbed all of the recent headlines, production on Star Wars: Episode 8 has continued in full force. In today's edition of Episode 8 Bits:
The great Frank Oz has apparently reported to Episode 8's Pinewood Studios set.
A look at Poe Dameron's new wardrobe.
Details of a "casino" scene and other potential spoilers.
Mark Hamill and Rian Johnson get silly on Twitter.
Adam Driver chats about the differences between Rian Johnson and J.J. Abrams.
Daisy Ridley explains why Rey's parents don't matter.
A new look at the film's Irish sets.
John Boyega calls Kelly Marie Tran one of Episode 8's leads.
It seems that Frank Oz recently journeyed to London and went to Pinewood Studios. And since Episode 8 is filming at Pinewood Studios, you are officially allowed to start pondering whether or not Yoda will return for this next film. After all, Oz famously voiced Yoda and operated the Yoda puppet in the earlier Star Wars films. When Yoda went CGI, Oz continued to lend his voice to the character. However, it's not clear if he's on set to contribute more Yoda or if he's being called in to assist in another capacity, maybe to lend his expertise to the production and help consult on new characters. Let's remember the last time we saw Yoda in the Star Wars timeline though – as Luke and his friends celebrated the destruction of the second Death Star, Yoda was among the Force ghosts who popped up for one last goodbye. Is it possible that Luke is chilling out with ghost Yoda on a regular basis? And is it possible that Oz has returned to voice (and maybe operate) him again?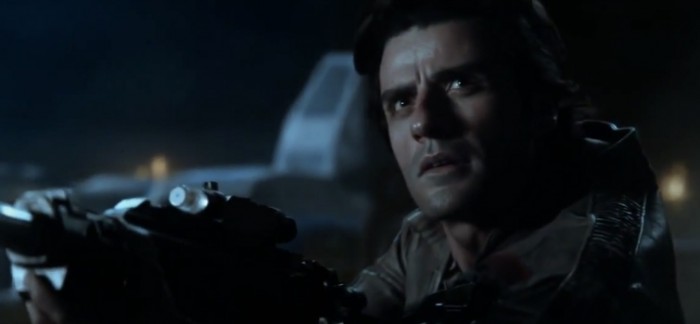 The Force Awakens made it pretty clear that Oscar Isaac's Poe Dameron is one of the best-dressed men in the galaxy, but he also gave his pretty rad leather jacket to John Boyega's Finn. Naturally, a man who values looking good (even when you're fighting in a down-and-dirty resistance group) needs to obtain a new outfit. Making Star Wars claims to have seen Poe's new Episode 8 Wardrobe:
His undershirt is the same style as The Force Awakens; the V-cut at the neck might be a little deeper cut than last time (but it's more or less the same). Poe's shirt is a grayish light blue (my wife says the color is "stone"). His leather jacket is from the Han Solo collection. It might be described as a "cafe racer jacket" but it's not tight-fitting. They clearly shop at the same space store. It really reminds me of the leather jacket Han wears in The Force Awakens. Han's jacket looks more black in color whereas Poe's new coat is more "espresso" but with the glossy leather shine being identical. It appears to have a flap or breast pocket (I couldn't identify if it was functional or not). The leather of Poe's new jacket is really similar to Han's jacket in The Force Awakens but it stands up higher on the neck and the lapels stick out a little more.
For additional details on Poe's new clothing, hit that link and read on.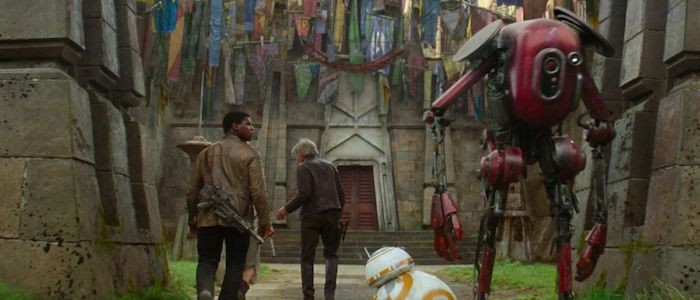 Making Star Wars also published a slew of minor but intriguing new tidbits gleamed from their sources. Naturally, you should take all of this with a grain of salt, but the site has been accurate enough in the past for us to at least take this somewhat seriously. These could be considered spoilers (albeit incredibly minor spoilers), but you know you.
First, the less spoilery stuff. The site reports that pick-up shots of an "evacuation sequence" were shot this week involving Oscar Isaac's Poe Dameron and Laura Dern's unnamed Resistance leader. This scene supposedly also features a bunch of people evacuating into smaller ships. It certainly sounds like the First Order has the Resistance on the run...
Second, they speak of a "casino sequence" that will be like the Cantina scene in Star Wars or the bar scene in The Force Awakens, but "on a larger scale than we've seen before." In other words, prepare to see a whole bunch of new aliens and creatures and characters who will eventually receive backstories and get action figures. Most intriguing is the news that Luke Skywalker will play a role in the scene as he searches the casino for someone. I thought for sure that the bulk of Luke's time in Episode 8 would be spent training Rey in the wilderness, so this is an intriguing development. Making Star Wars can't confirm that the casino scenes are the interiors represented by the exteriors that were shot in Dubrovnik, Croatia, but it seems likely. After all, the streets were decorated with all kinds of flashing, casino-esque lights.
Now in production #W8ForVIII https://t.co/I3og06AxF6

— Mark Hamill (@MarkHamill) April 12, 2016
Just don't expect Mark Hamill to chime in on any details. It's hard to tell when he's being serious or just messing with us. The man is a regular joker, using social media to tease fans and drop great dumb jokes and generally be a big pain the butt for anyone who arrives at his digital doorstep with questions about Episode 8. Note the tweet above. I love this guy. So I have no idea what to make of the tweet below, where Hamill shares an image of his screenplay (complete with very extensive watermark) and promises to share plot details if he gets 21,000 people to share it. As of right now, he's not even close. But hey, it's a good gag.
Time 4 a #SWSecret-@rianjohnson OK'd release of stunning #Ep8 plot point-Tell 21,000 friends! #HAMILLION #StayTuned pic.twitter.com/B9nQM6A5st

— Mark Hamill (@MarkHamill) April 1, 2016
Of course director Rian Johnson (who is equally good at being silly on Twitter) had the best response.
And while we're sharing good Rian Johnson tweets, here's his response when someone asked him if BB-8 would be in Episode 8: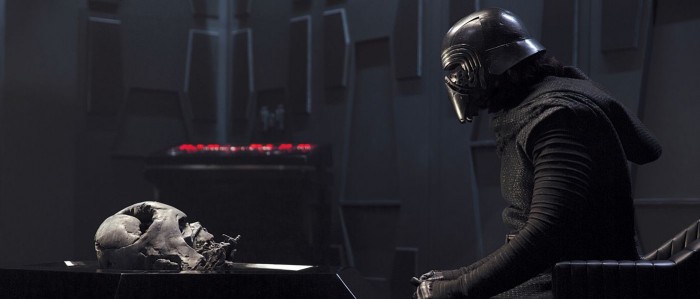 Entertainment Weekly hosted a Q&A with Adam Driver and other Midnight Special cast members following a screening of the film. Episode 8 came up and Driver offered some searing story details:
They're still at war. It's still Star Wars. They're not at peace.
Oh, Adam Driver. You scamp. However, he did speak about the differences between J.J. Abrams and Rian Johnson as directors:
Their temperaments are different. I feel like there was so many moving pieces in the first one – just trying to solve it and set the vocabulary for what it was. There's a lot of that anxiety is gone, because people have developed a language. I think it's more of a testament to Rian coming into something very established and making it [his own]. I can't wait to get on set, just because he's so unassuming and intelligent and approachable. The script they've come up with is really great.
His answer makes it sound like, at the time of the Q&A, Driver had not yet begun filming. It's not clear if he's reported to set since then, but we'll probably know soon enough. Security around Episode 8 is fairly air-tight, but something will inevitably slip through the cracks.
Hey @HamillHimself look what they're building for you in #CeannSibéal #Dingle #Ireland #StarWars #pints pic.twitter.com/0oSPtHb9vp

— Marian O'Flaherty (@oflaherty_news) April 9, 2016
It's no secret that filming on Skellig Michael was a huge pain in the butt for the cast and crew of The Force Awakens, so it wasn't surprising when Episode 8 only scheduled a few days on the rocky, heavily protected island. Portions of Luke's new home of Ahch-To was recreated on sets at London's Pinewood Studios, but other sets are under construction at Ceann Sibéal in Ireland, as you can see in the image above. So in the end, the Ahch-To sequences of Episode 8 will consist of scenes shot on Skellig Michael, scenes shot in Ceann Sibéal, and scenes shot at Pinewood Studios. Movie magic and whatnot will make them all blend together just fine. And unlike that April Fool's joke about world famous English Market in Cork, Ireland being used for a sequence, there is no mistaking this. Those sets are clear recreations of those odd structures glimpsed on Luke's island at the end of The Force Awakens.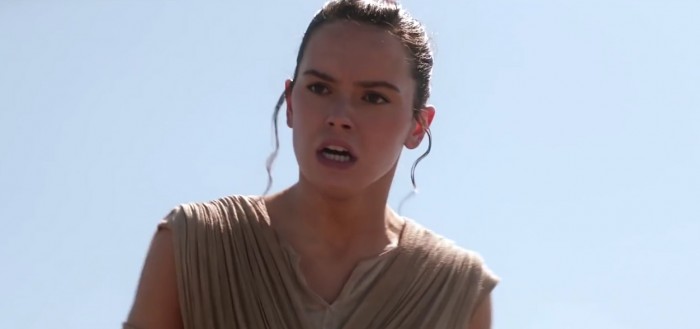 Daisy Ridley won Best Breakthrough Performance at this year's MTV Movie Awards and afterward, she was asked the usual collection of Star Wars questions. After confirming that Rogue One's Jyn Erso is not Rey's mother, she said that this is a less important question than people seem to think it is:
I think the amazing thing about [Episode VII] is that Finn and Rey don't come from anywhere, and they find a place.  So to me, it's funny that people think it's so important because I don't really think it is.
Since The Force Awakens concluded with Rey arriving on Ahch-To to (hopefully) begin training under Luke Skywalker, that means she's going to be a Jedi, right? Not so fast:
I don't know if I am a Jedi... I don't think I am.  We've had this debate as to whether Leia is because she uses her Force powers.  Just because she's not like, oh I'm going on an adventure like Luke doesn't make her any less Forceful.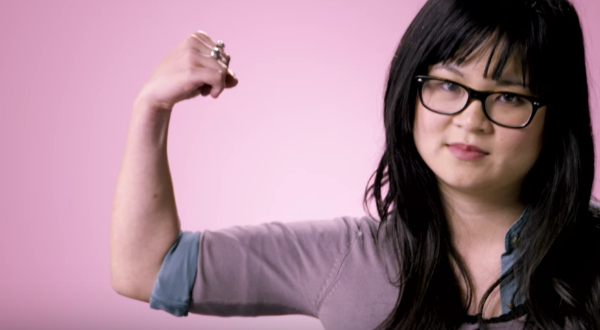 Speaking of female leads in Star Wars movies, John Boyega recently introduced a screening of Secrets of the Force Awakens: A Cinematic Journey in the U.K. where he referred to new cast member Kelly Marie Tran as a "lead." Right now, we have nothing to back this up and know nothing about her role in the film, but it's an interesting thing to consider. Does Episode 8 have room for another major character since it already has to find time for Rey, Finn, Poe, and Kylo Ren to do their thing? Apparently. But even if she's not a proper lead, this will be a huge role for the relative newcomer, whose past credits include Comedy Bang! Bang! and Ladies Like Us.