'Sherlock' Season 4 Has Begun Filming Because Benedict Cumberbatch Doesn't Require Sleep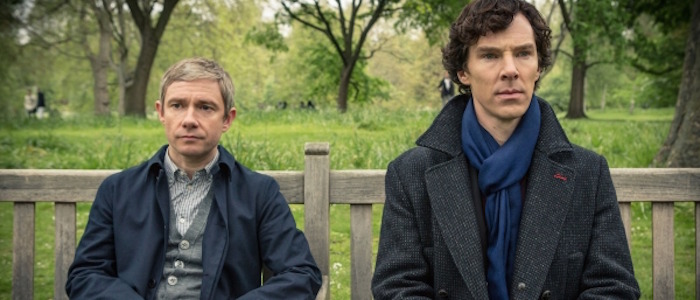 Benedict Cumberbatch may have just wrapped production on Marvel's Doctor Strange a few days ago, but he's already started shooting Sherlock season 4. Call it keeping your nose to the grindstone. Call it having a supernatural ability to work with the bare minimum amount of sleep. In either case, Mr. Cumberbatch must have the same mutant gene as Dwayne Johnson. You know, the one that allows him to work tirelessly without crashing his car into a ditch or walking into closed doors.
Anyway, the real news here is not that Cumberbatch is secretly one of those kids from Beggars in Spain, but that production has officially begun on more episodes of Sherlock, which is good news for people who like nice things.
The start of production was announced through an official statement (via Collider), which featured this quote from co-showrunner Steven Moffat:
"Sherlock series four ?— here we go again! Whatever else we do, wherever we all go, all roads lead back to Baker Street, and it always feels like coming home. Ghosts of the past are rising in the lives of Sherlock Holmes and John Watson and terror and tragedy are looming. This is the story we've been telling from the beginning and it's about to reach its climax."
That certainly sounds cryptic, especially since this show has been entirely unafraid to put its characters through the wringer in the past. It's a miracle that Cumberbatch's Sherlock Holmes and Martin Freeman's John Watson can even function as human beings at this point. Moffat also makes it sound like the show is reaching some kind of grand conclusion. Could season 4 be the last we see of Sherlock? After all, its two leading men are working pretty steadily in major movies now and scheduling is surely a royal pain in the butt. Heck, we can now imagine Cumberbatch and Freeman swapping Marvel stories on the Sherlock set now that they've appeared in Doctor Strange and Captain America: Civil War.
Anyway, the first episode of the new season will be directed by The Flash and Doctor Who veteran Rachel Talalay (who, trivia alert, also directed Tank Girl and Freddy's Dead: The Final Nightmare). Here's the official description of where we'll find our cast of characters:
Season 4 begins with the mercurial Sherlock Holmes (Benedict Cumberbatch), back once more on British soil as Doctor Watson (Martin Freeman) and his wife Mary (Amanda Abbington) prepare for their biggest challenge yet: becoming parents.
The new season doesn't have an air date yet, but past seasons have aired on the BBC in the Winter before arriving on PBS early the following year. So keep your eyes on late 2016 and early 2017.