Alfre Woodard Has A Role In 'Captain America: Civil War' But It's Not Tied To 'Luke Cage'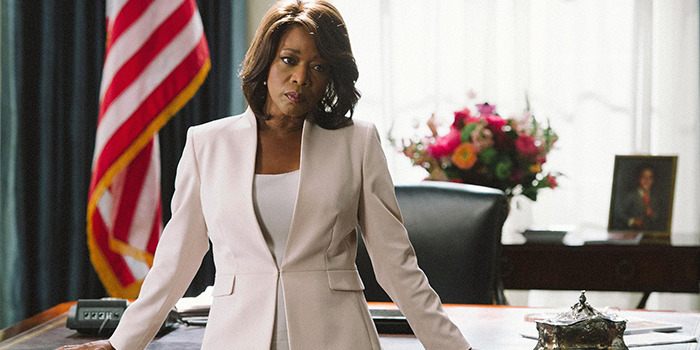 The release of Captain America: Civil War is just one month away, and that means the star-studded red carpet premiere iseven closer. The cast of the comic book sequel is already massive with a whole slew of The Avengers appearing in the movie and squaring off against each other as they disagree over the Sokovia Accords, which dictates that the superhero team needs some kind of oversight. But believe it or not, two more names have just been added to the roster.
Alfre Woodard and Jim Rash are listed among the cast members of Captain America: Civil War expected to be in attendance for the premiere. It's the casting of Woodard that had Marvel fans curiosity piqued, because the Oscar-nominated actress was previously cast in a key role in the forthcoming Luke Cage series at Netflix. This seemed to indicate that there might be a more clear bridge between the Marvel TV shows and movies, but sadly, that's not the case. Find out more about Alfre Woodard in Captain America Civil War below, but beware of minor spoilers.
Last year, Alfre Woodard was added to the cast of Luke Cage as Mariah Dillard, aka "Black Mariah", a local Harlem politician–and cousin to recently announced Cornell "Cottonmouth" Stokes (Mahershala Ali)–who is looking to bring a new era of change to the streets she grew up on. Her personal life and professional career are thrown into turmoil by both Harlem's newest hero Luke Cage as well as her cousin Cottonmouth's nefarious acts. The character is known to be a nemesis of Luke Cage and eventually Iron Fist as well.
Considering Woodard's key role in the Luke Cage series, her inclusion in the cast of Captain America: Civil War had fans hoping that there would finally be more significant crossover between the Marvel TV shows and movies. How cool would it have been for a Luke Cage villain to first appear in Civil War? But instead, Woodard is playing a completely different character.
ScreenCrush has learned that Woodard is playing a "small yet pivotal role" as the mother of an American who was killed during Ultron's attack on Sokovia in The Avengers: Age of Ultron. Reportedly this character has a confrontation with Tony Stark, and it's this moment that convinces him to agree to the Sokovia Accords, which set out to regulate The Avengers.
While the addition of Woodard in a key role such as this is a welcome one, it's rather disappointing that it's not to create more of a bridge between Marvel's TV series, which exist in the same world as the movies. It's just more evidence of the creative divide and lack of more satisfying cooperation that exists between Marvel's television division and Marvel's movie.
Ever since some major corporate restructuring left Kevin Feige in charge of Marvel's films, and his old boss Ike Perlmutter holding on to the Marvel TV side of things, there's even less of a chance of cooperation. That's why a crossover between Agents of SHIELD and the eventual Inhumans movie also seems unlikely.
It might seem confusing that Woodard is playing two characters in the Marvel cinematic universe, but Enver Gjokaj played a police officer in The Avengers before taking on the role of Daniel Sousa in Agent Carter. And there's been chatter of Zachary Levi potentially playing another character besides Fandral in the Thor franchise if the opportunity should present itself.
As for Jim Rash, he starred on Community, which Anthony & Joe Russo directed and produced. And since the directing duo gave co-star Danny Pudi a cameo as a SHIELD employee in Captain America: The Winter Soldier, Rash likely has a quick appearance in Civil War along the same lines.
Captain America: Civil War arrives on May 6.